---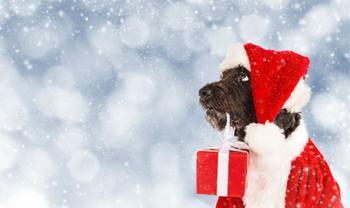 'Tis the season to give and receive gifts, but some gifts may be as unwanted as they are dangerous to pets. For every pet who makes a snack out of a gift basket or fruitcake, there's a pet parent who could be facing a hefty vet bill.
Removing a foreign body or treating food poisoning in pets can cost twice as much during a holiday week, says pet insurance company Petplan. That's because pets who get themselves into trouble during a holiday week usually end up at emergency vets.
"When you consider that the average claim paid for food poisoning is $585, or that foreign body removal surgery costs an average of $1,327, it is sobering to realize that those costs can easily double during the holidays," said Petplan Veterinary Manager Elyse Donnarumma.
Gifts that are dangerous to pets
To keep things merry and bright this holiday season, make sure to keep your pets away from food and gifts that can be harmful if swallowed. Here are a few of the gifts that can land pets in an emergency vet's office, according to Petplan.
Fruitcake. Fruitcake (and Panettone) contains currants, raisins, and nuts: three ingredients that can make your pet sick. Add to that the fact that the cake is soaked in spirits and you've got a recipe for a holiday gift that is far from safe for pets.
Boxed chocolates. Chocolate is popular this time of year, but whether it's arranged in a gift box or used in a holiday dessert, it can be dangerous to pets. Chocolate contains theobromine, and can cause can cause liver failure, bleeding, and death in dogs.
Bows and ribbons. Colorful ribbons can be enticing playthings for pets, but trouble may arise if a pet takes play time too far. If ingested, ribbons can become linear foreign bodies that require expensive surgery to remove. To keep pets safe, make sure to throw wrappings away after they've served their purpose.
Bath products. Before leaving that bath product gift set on the floor unattended, remember that bath salts contain magnesium sulfate. Epsom salts can kill or permanently injure pets if swallowed.
Coffee / hot chocolate. If you find yourself unwrapping a coffee mug gift set this holiday season, make sure to keep it away from pets. Gifts that include coffee or chocolate can be dangerous to pets, as the caffeine can cause hyperactivity, elevated heart rate, seizures, or even death.
Lottery tickets. Don't take a gamble on your pet's health. Avoid risking a foreign body ingestion emergency by throwing away the envelope and paper from this gift. 
Holiday plants. If you receive a holiday plant as a gift, make sure to keep it out of paw's reach as some holiday plants are toxic to pets. Christmas lilies can cause kidney failure in cats, while Christmas cacti can cause upset tummies in all pets.
Thanks
Keep an eye on your inbox, the lastest consumer news is on it's way!
Unsubscribe easily whenever you want
---