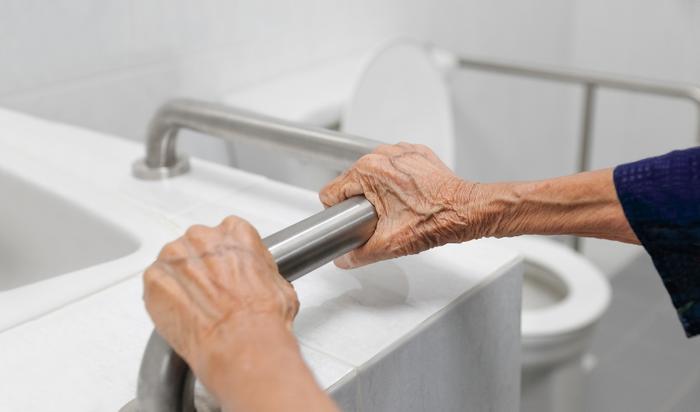 Nearly 90 percent of Americans are laying low at home because of the COVID-19 pandemic. Some of those are working remotely, some are furloughed, and some are just playing it safe.
A major chunk of the playing-it-safe crowd are seniors, mostly because of their susceptibility to the virus. With more time spent at home and the Fed cutting interest rates, some senior adults -- often with a little nudge from their families -- are investing in their own long-term safety and the value of their home by upgrading their bathrooms. 
To help focus that effort, Nurse Next Door -- a home care service provider -- created a list of safety tips that seniors can take to make their bathrooms safer. The information is extremely important; the National Council for Aging Care cites statistics which show that 80 percent of falls in the home happen in the bathroom, with treatments costing an average of $30,000. 
Safety tips
Topping the list of Nurse Next Door's safety tips is to reduce clutter in the bathroom, which can be accomplished by storing items in cabinets that are safe and out of the way. The company also recommends keeping necessary items within reach, keeping bathroom pathways clear, and getting assistance from a caregiver if it is needed. 
Other items on the list include several modifications and pieces of equipment that can help stabilize seniors and make navigating the bathroom safer. They include hand-held showerheads, weighted shower curtains, grab bar installations, and non-slip bath mats and chairs. 
The last major modification that seniors could consider is the addition of a walk-in bathtub. Studies have shown that 97.2 percent of home health clients need assistance in taking a bath, and anything that makes that aspect easier is a good investment.
"If you're looking to invest some money in a more permanent fixture aside from grab bars for bath safety, you can consider installing a walk-in tub," was Nurse Next Door's recommendation.
As with many things marketed to seniors, there's a lot of companies hawking walk-in bathtubs and, because of that alone, anyone considering buying one should ask a lot of questions. To help in the process, ConsumerAffairs has researched the best walk-in bathtub companies, the features they offer, and what consumers' expectations should be. You can find that guide here.