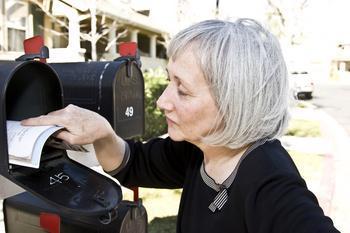 Senior citizens are especially attractive targets for scams. They have money and are easily persuaded to part with it. Law enforcement has recently cracked down on scams targeting seniors.
But seniors, it seems, send money to a lot of organizations that aren't scams – at least, not completely. Many are recognizable and respected charities or other non-profit organizations that increasingly depend on contributions from seniors for financial support.
Because many seniors don't own or use a computer, these organizations rely on telemarketers and direct mail. It's not uncommon for a senior's daily mail to be largely made up of what many would consider "junk mail."
Are these groups crossing the line from legitimate fundraising appeals to exploiting senior citizens? Carol Morrison of rural Maine thinks they are.
Morrison became concerned when her elderly mother-in-law, whose husband had died a few years earlier, began making donations to any group or organization that asked her for money.
$10 and $15 donations
"We started noticing all these $10 and $15 donations to organizations and we thought, what is this?" Morrison said.
But when Morrison and her husband queried her mother-in-law about it, the elderly woman got defensive.
"She told us, 'Those are my donations and it's my money,'" Morrison recalls. "Okay, so we let it go for a while. But then we began to notice that they were repeating because, the more you give the more they ask for."
The Morrisons began to track the pattern and found that annual solicitations became quarterly, then eventually monthly. In a five-day period in early April, Morrison intercepted 11 pieces of junk mail, including pitches from Taxpayer Straw Poll for No Social Security for Illegal Aliens; Joslin Food Bank; Wounded Warrior Project; Christians Reviving American Values; and two solicitations from the National Right to Life Committee.
"A year and a half ago she moved into assisted living and the mailings and phone calls seemed to get worse," Morrison said.
Free stuff
Some solicitations came with free items, such as refrigerator magnets and calendars. The couple had to constantly tell the woman she was not obligated to respond with a donation, although she felt she was.
"She would say, 'It's just not right to keep it because that's a good cause," Morrison said. "If they sent a picture of a kid, she was a goner, or a guy on crutches or in a wheelchair."
Sometimes, Morrison said, the organization would send a letter, thanking the woman for a donation, then in the same letter, ask for another. Recently, she said she and her husband intercepted an appeal from Easter Seals that upped the ante considerably.
"They wanted her to sign a paper that came with one of the solicitations that would take $5,000 from her estate at the time of her passing to set up an annuity," Morrison said.
Political groups
In addition to charitable organizations, Morrison's mother-in-law receives regular appeals from conservative political organizations, ranging from the Heritage Foundation to various Tea Party groups and, though she lives in Maine, not Minnesota's 6th District, Michelle Bachmann's Congressional Campaign Committee.
"I think these groups just assume that because she's a senior citizen that she is conservative, but she has never been political," Morrison said.
Morrison and her husband stress that they have no problem with their elderly relative donating to worthy causes, they just don't want to see her exploited. Because she has dementia, they think she is even more vulnerable to well-meaning groups that, in Morrison's opinion, have crossed the line.
"We don't have anything against these charities, some of them are good charities, but we tell her 'donate once a year,'" Morrison said.
Her advice to other family caregivers is to pay close attention to how their loved one is spending money and closely monitor the appeals for money that land in their mailbox.
What to do
For an older person, getting mail – even junk mail – may be the highlight of their day, so use sensitivity when you approach this area. Explain to your loved one how these fundraising appeals work – that it's not personal but simply a cold-hearted ploy to raise cash.
Make sure they have something else in their mailbox to open. Encourage family members – especially grandchildren -- to write regular letters.
By all means make sure your loved one's telephone number is registered on the national DO NOT CALL list, to reduce the number of telemarketing calls.
If you are concerned that your loved one is receiving appeals from organizations that are not legitimate, contact your state attorney general's office.