---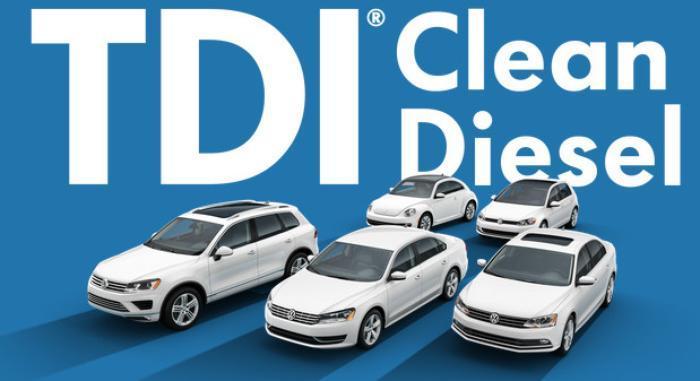 Consumers, car dealers, environmentalists, regulators, they're all mad at Volkswagen. And now you can add the U.S. Senate. It turns out that consumers who bought VW's "clean diesels" slurped up $50 million or so in "lean-burn technology motor vehicle" tax credits.
The top two senators on the Senate Finance Committee have written to Volkswagen, giving the company until Oct. 30 to answer some tough questions about whether those credits were justified.
"Volkswagen fleeced Oregonians and Americans across the country by selling 'clean' diesels secretly equipped with defeat devices (that hid their true emissions)," Sen. Ron Wyden (D-Ore.) said in a blog posting that claimed Oregonians own more VW diesels per capita than residents of any other state.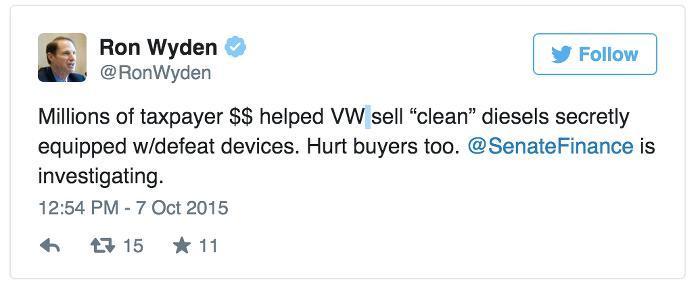 Wyden and Senate Finance Committee Chairman Orrin Hatch (R-Utah) said they are "launching a bipartisan investigation into VW's cheating – cheating that millions of taxpayer dollars inadvertently subsidized because of VW's deception."
Certified by Volkswagen
It all has to do with something called the Alternative Motor Vehicle Tax Credit, passed by Congress in 2005 to encourage taxpayers to buy high-efficiency, low-polluting cars. To qualify, manufacturers had to certify that their vehicles met certain standards, after which consumers could claim the tax credit, the senators note in their letter to Volkswagen.
In 2008, Volkswagen certified to the Internatl Revenue Service that the 2009 VW Jetta TDI sedan and SportWagen qualified for $1,300 tax credits based on their supposedly clean emissions profile. More VW and Audi vehicles were added later.
About 60,000 of the cars were sold by July 1, 2010. The credit was then cut in half until it expired on Dec. 31, 2010. Using those figures, the senators calculated the loss to American taxpayers at "well over $50 million."
In their letter, the senators give Volkswagen until Oct. 30 to produce documents relating to the tax credits. 
House holds a hearing
The letter was sent to VW CEO Matthias Muller and Michael Horn, president and CEO of Volkswagen Group of America. Horn is on Capitol Hill today, testifying before the House of Representatives Energy and Commerce Committee, which is also looking to grill VW and EPA officials.
In advance of today's hearing, the EPA told U.S. lawmakers it could not divulge new details about its probe since it is still conducting its investigation. Previously, officials have said that VW deceived regulators by building the "cut-out" software that turned on emission controls when vehicles were being inspected, then turned it off when the inspection ended. 
In written testimony prepared for today's House hearing, officials said VW also conspired to cover up evidence of its deceptive actions.
Besides various federal investigations, VW also faces a flood of consumer lawsuits and investigations by state attorneys general, including New York's Eric Schneiderman. 
"No company should be allowed to evade our environmental laws or promise consumers a fake bill of goods. That is why my office is investigating troubling reports that millions of Volkswagen cars carried software designed to cheat emissions tests that protect our environment," Schneiderman said. "We look forward to collaborating with Attorneys General across the nation on this matter."
---