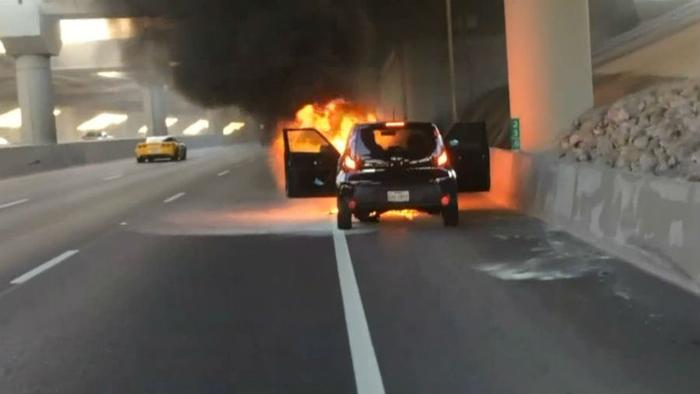 The chairman and ranking Democrat on the Senate Commerce Committee want to hear from executives at Hyundai and Kia about a reported rash of vehicle fires. A hearing on the subject has been scheduled for Nov. 14.
That follows a public statement last week from the Center for Auto Safety, which called on the Korean automakers to recall recent model cars and SUVs to address the problem. The group said it counted 220 reports of vehicle fires involving the two brands received by it and the National Highway Traffic Safety Administration (NHTSA).
"Since our call for an investigation into these Kia and Hyundai non-collision fires, we have seen reports of almost one fire every single day across these five models," Jason Levine, executive director of the Center for Auto Safety, said last week. "The number and severity of these complaints, when people are simply driving their cars on the highway, is frightening. It is long past time for Kia and Hyundai to act."
Hyundai is reviewing committee's request
In a statement to media outlets, Hyundai confirmed that it had received a request to appear before the committee and that the request is currently being reviewed. The company said it actively monitors potential safety concerns and acts quickly to correct them.
"We've got to get to the bottom of what's causing these car fires," Sen. Bill Nelson (D-Fla.) wrote in a tweet. "Owners deserve to know if their vehicles are safe, so we've called on the heads of Kia and Hyundai to testify in front of Congress."
In response to the Center for Auto Safety report, Hyundai said in rare instances -- a rate of less than 1 percent -- some engines have caught fire. But the automaker said an "exhaustive" study showed there is no systemic defect that would cause the fires.
Flaming Sorento
The center has collected details of all 220 reports of vehicle fires involving the two brands. In one, a consumer from Clarksburg, Mass., said she was driving a 2011 Kia Sorento on the Massachusetts turnpike one morning and noticed the rear window was cloudy.
"I washed the rear windshield and kept on driving," the consumer reported. "A few minutes later a man pulled alongside me and signaled that I should pull over. I stopped the car and smoke started to come out from under the hood."
The consumer said by the time she pulled off the highway and called 911 there were flames coming from beneath the hood.
According to the Senate Commerce Committee, there has been at least one non-collision fire-related fatality when an Ohio man burned to death last year after getting in his mother's 2014 Kia Soul.