---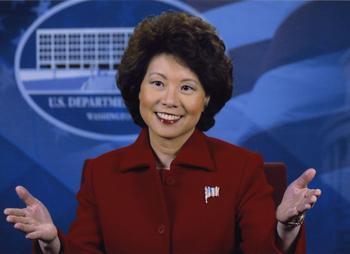 The Obama Administration had taken a cautious stance towards self-driving cars. Now it looks as though the Trump Administration may be more inclined to release the brakes.
U.S. Transportation Secretary Elaine Chao told the National Governors Association Sunday that self-driving cars hold great promise to reduce traffic deaths, although she noted that, with 3.5 million truck drivers in the U.S., they may also put a dent in the job market.
Chao said she is reviewing the self-driving car guidelines issued by the Obama Administration in September. Automakers have claimed the guidelines could needlessly slow development of autonomous cars by allowing states to implement their own regulations and requiring car companies to share proprietary data.
Chao said she is evaluating the guidance and will "ensure that it strikes the right balance." 
Noting that traffic fatalities were up 7 percent in 2015 and increased another 8 percent in the first nine months of 2016, Chao said there is "a lot of stake in getting this technology right."
Chao noted that surveys have found the motoring public is not wild about the idea of self-driving cars and she urged automakers and Silicon Valley tech firms to "help educate a skeptical public about the benefits of automated technology."
---