---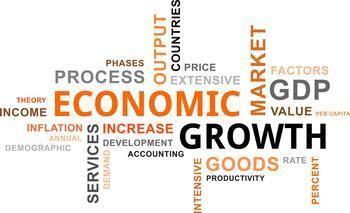 The U.S. economy continued to plod along in the second quarter.
The Commerce Department's second look at real gross domestic product -- the value of the goods and services produced by the nation's economy -- put expansion at an annual rate of 1.1%. While that's down 0.1% from the "advance" estimate released last month, it is a bit of an improvement from the first-quarter growth rate of 0.8%.
This latest economic snapshot is based on more complete source data than were available earlier, the general picture of growth remains the same.
The changes
What growth there was came from contributions from personal consumption expenditures (PCE), or consumer spending, and exports. These were partly offset by drops in private inventory investment, residential fixed investment, state and local government spending and nonresidential fixed investment. Imports -- a subtraction in the calculation of GDP -- increased
The PCE price index increased 2.0%, compared with an increase of 0.3% in the first three months of the year. Excluding volatile food and energy prices, the "core" PCE price index was up 1.8%, versus an of 2.1% in the previous quarter.
Corporate profits
Profits from current production plunged $24.1 billion in the second quarter, after rising $66.0 billion in the first quarter.
Profits of domestic financial corporations rose $7.2 billion in the second quarter, while profits of domestic nonfinancial corporations fell $58.2 billion.
The complete report is available on the Commerce Department website.
---