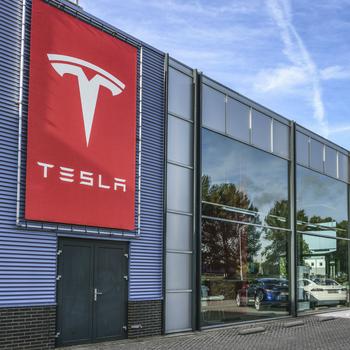 The Securities and Exchange Commission (SEC) has reportedly issued a subpoena to Tesla, suggesting the company is under official investigation by the regulator.
The subpoena was reported by Fox Business and the New York Times; the outlets say the subpoena concerns CEO Elon Musk's assertion in a tweet that he was considering taking the company private, buying out public shareholders at $420 a share, and that funding is "secured."
The Times cites sources familiar with the matter, but the SEC has declined to comment.
Musk has been in a months-long Twitter war with investors who have "shorted" Tesla, betting that the stock price will fall. They make money if it does but they lose money if the stock price goes up.
Aug. 7 tweet
Musk's Aug. 7 tweet, sent while the market was open for business, caused the stock price to surge by 11 percent, meaning short-sellers took a hit. However, Musk has been unable to provide any evidence that he had secured funding at the time the tweet was sent and Tesla board members appeared to be in the dark about the entire matter.
Musk subsequently said he left a meeting with Saudi investors convinced that they would provide the needed capital for the buyout, but as former SEC Chairman Harvey Pitt has pointed out, that is not the same as having a legally enforceable agreement, which the law requires when public statements of this sort are made.
Second whistleblower?
At the same time, a second former Tesla employee has come forward, claiming the company silenced her and her team members when they brought up what they said were important safety and quality issues. Cristina Balan has told Business Insider that she was pushed out at Tesla in 2014 after she and her design team alerted company executives about what they described as poor part quality and waste.
Her story comes on the heels of former Tesla employee Martin Tripp's assertions which follow the same lines. Tesla has sued Tripp and charged him with breaking into the company's computer network. Tripp has counter sued and has sought whistleblower status with the SEC.
Linette Lopez, the Business Insider reporter who broke Tripp's story, is also the author of the story airing Balan's claims. She writes that her requests to Tesla for comment went unanswered.
Meanwhile, Tripp has tweeted out photos and documents that he says show a damaged battery module used in Model 3 cars. Technology site Engadget has published the text of Tripp's tweets, including a list of Vehicle Identification Numbers of affected cars.