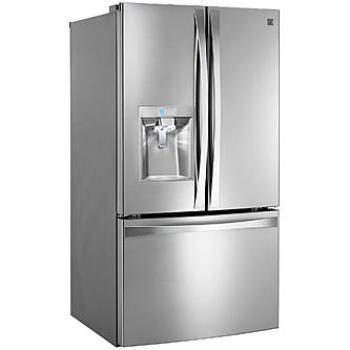 If you can't be 'em, join 'em. That might be the thinking behind Sears' announcement that it will begin selling its Kenmore products on Amazon.com.
For Sears, it marks the biggest distribution of Kenmore appliances outside of its brick and mortar stores and comes as Amazon continues to invade traditional retailers' space. Amazon recently announced the purchase of the Whole Foods chain, sending shivers through the supermarket industry.
In addition to the marketing deal, Sears also said that its Kenmore Smart room air conditioners are integrated with Amazon's Alexa app and are available now on Amazon. It will expand the distribution to include all Kenmore home appliances. On Wall Street, Sears stock surged on the news.
"We continuously look for opportunities to enhance the reach of our iconic brands to more customers and create additional value from our assets," said Edward S. Lampert, Chairman and Chief Executive Officer of Sears Holdings.
Will expand availability
Lampert says the move will "significantly expand" the availability of Kenmore appliances to U.S. consumers.
Sears Holdings, which also owns Kmart, has struggled in recent years as more retail sales have shifted to online channels. The company closed a number of stores in 2016, including 30 right at the end of the year.
As we reported then, Sears had lost money in each of the past six fiscal years as it continues to lose business to online retailers and other brick-and-mortar stores. Pairing itself with a retail juggernaut probably can't hurt, putting its key brand in front of more consumers.
Linking its smart appliances with Alexa may also raise the company's visibility. The company says its Kenmore skill for Alexa allows users to control their Kenmore smart-enabled home appliances with simple voice commands.
Customers can enable the skill in the Alexa Skill Store, link their account and then begin asking Alexa to interact with their Kenmore appliances.