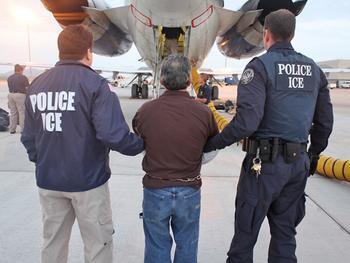 President Trump's attempted crackdown on immigration is proving to be a bonanza for scam artists who are using it to extort money by posing as Immigration and Customs Enforcement (ICE) officers, law enforcement agencies say.
New York Attorney General Eric T. Schneiderman says his office has received a number of reports about such scams and is warning immigrants to beware.
"It is unconscionable for scam artists to prey on heightened fear in our immigrant communities by pretending to be ICE officers and demanding that families pay up in order to avoid deportation," said Schneiderman. "I urge communities to protect themselves by learning about these potential scams – and contacting my office if they suspect fraud. We will continue to use all of the tools at our disposal and bring to justice those who commit fraud against our immigrant communities."
In one case cited by Schneiderman, an immigrant living in Queens was approached by four men dressed as ICE agents, who told the man that he was going to be detained unless he gave them all of his money.
Schneiderman listed these common forms of immigration fraud:
Being Approached by Fake ICE Agents. Official Immigration and Customs Enforcement (ICE) agents will never ask you for money or threaten detainment or deportation if you do not pay them. ICE agents also do not have the authority to enter your household without a warrant signed by a judge.
Unsolicited Calls From Fake Officials: This is one of the most common scams. Oftentimes the number on caller ID may look like a legitimate government number, but legitimate government offiials never request payment over the phone, so immigrants should be wary of scammers that ask for any sensitive or personal information, demand payment, and threaten deportation if they do not comply.
Notario Fraud: In many Latin American countries a "notario" refers to someone who has the authority to render legal services. Unscrupulous "notaries" who are not attorneys often rely on this misunderstanding to exploit immigrants. Only licensed attorneys can provide legal assistance in the United States. 
Misrepresenting Legal Credentials: Individuals may falsely claim to be attorneys or wrongly suggest that they are able to appear before the immigration agencies or court. You can verify that an attorney is licensed by contacting your state or local bar association. 
Fraudulent Promises to Expedite Process: Scam artists may contend that they know employees at immigration offices who can expedite the processing of their clients applications. They request high fees for this special service, but fail to provide it.
Misinformation Fraud: Under this type of fraud, a provider will typically provide inaccurate or false information to the immigrant concerning his or her eligibility for an adjustment of status under a particular law. In these cases, the immigrant is usually not aware that they have been a victim of fraud until they receive a letter of ineligibility from immigration authorities.