---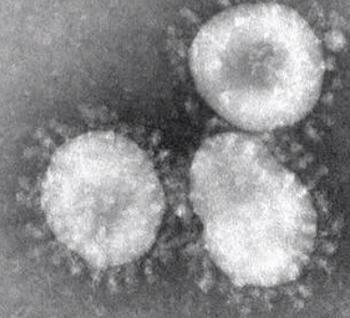 British health officials say a SARS-like coronavirus may be spreading through person-to-person contact. The Health Protection Agency (HPA) today said it has confirmed the illness in the U.K.'s third victim, who is a relative of an earlier patient infected with the virus.
Previously, all of those infected had traveled to Qatar, Saudi Arabia, Jordan or Pakistan, but that's not the case with Patient No. 11, who is in intensive care at the Queen Elizabeth Hospital in Birmingham.
"Confirmed novel coronavirus infection in a person without travel history to the Middle East suggests that person-to-person transmission has occurred, and that it occurred in the UK," said Professor John Watson, head of the respiratory diseases department at the HPA. "This case is a family member who was in close personal contact with the earlier case."
Watson said Patient No. 11 has an underlying health condition and who may have been at greater risk of acquiring an infection.
"To date, evidence of person-to-person transmission has been limited. Although this case provides strong evidence for person to person transmission, the risk of infection in most circumstances is still considered to be very low," Watson said. "If novel coronavirus were more infectious, we would have expected to have seen a larger number of cases than we have seen since the first case was reported three months ago. However, this new development does justify, the measures that were immediately put into place to prevent any further spread of infection and to identify and follow up contacts of known cases."
Watson said the risk associated with the virus in the general population was "very low" but said the HPA would continue to monitor the situation.
In the U.S., Michael Osterholm, an infectious diseases expert at the University of Minnesota, warned the virus could be adapting into a more transmissible form, according to an Associated Press report.
"At any moment the fire hydrant of human-to-human transmission cases could open," he said. "This is definitely a 'stay tuned' moment."
Coronaviruses and SARS
Coronaviruses are causes of the common cold but can also include more severe illness, such as SARS (Severe Acute Respiratory Syndrome).
This new coronavirus was first identified in September 2012 in a patient who died from a severe respiratory infection in June 2012. The virus has so far only been identified in a small number of cases of acute, serious respiratory illness who presented with fever, cough, shortness of breath, and breathing difficulties.
SARS was first reported in Asia in February 2003. Over the next few months, the illness spread to more than two dozen countries in North America, South America, Europe, and Asia before the SARS global outbreak of 2003 was contained.
According to the World Health Organization (WHO), a total of 8,098 people worldwide became sick with SARS during the 2003 outbreak. Of these, 774 died. In the United States, only eight people had laboratory evidence of SARS-CoV infection. All of these people had traveled to other parts of the world
with SARS and no person-to-person spreading of the disease was found in the U.S.
---