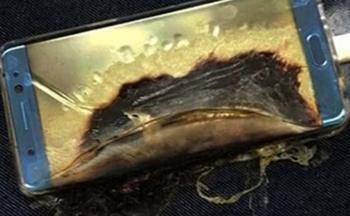 Korean electronics giant Samsung says it has completed an investigation of the fires that forced it to withdraw its flagship Note 7 smartphone from the market, and it has pinned the blame on defective batteries.
At a news conference in Seoul, DJ Koh, head of Samsung's mobile communications business, said the company's investigation, backed up by various independent probes, found a short circuit within the battery may occur when there is damage to the separator "that allows the positive and negative electrodes to meet within the jellyroll."
The company was forced to recall the Samsung Galaxy Note 7 just weeks after its release when there were dozens of reports of the phones exploding or catching fire. In a couple of cases, the incidents occurred aboard commercial aircraft shortly before takeoff.
The company re-released the phones weeks later with a different battery configuration. But it wasn't long before there were reports of similar incidents, some of them dramatically captured on video and posted on YouTube. Samsung was then compelled to withdraw the newer Note 7's from the market.
Separate factors
In its report, Samsung said the investigation identified separate factors in both batteries that led to the defect -- factors that were unique to each battery.
Based on what it learned from the investigation, Samsung said it has implemented new internal quality and safety processes to ensure safety, including an "8-Point Battery Safety Check." It also announced formation of a Battery Advisory Group of external advisers to maintain "a clear and objective perspective on battery safety and innovation."
"For the last several months, together with independent industry expert organizations, we conducted thorough investigation to find cause to the Galaxy Note7 incidents." Koh said, "Today, more than ever, we are committed to earning the trust of our customers through innovation that redefines what is possible in safety, and as a gateway to unlimited possibilities and incredible new experiences."
Meanwhile, Samsung is said to be moving ahead with its plans for the Galaxy Note 8, the successor to the ill-fated Note 7. However, a release date for the next phone is far from certain.