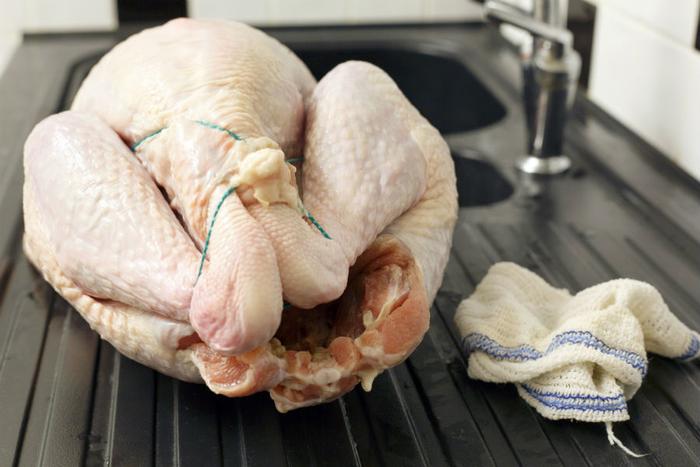 The Centers for Disease Control and Prevention (CDC) said on Thursday that a salmonella outbreak linked to raw turkey has sickened 164 people and resulted in one death. The outbreak has been going on since last November.
"We are still seeing new illnesses being reported on a weekly basis," said Colin Basler, an epidemiologist with the CDC, told the Associated Press.
In a warning to consumers ahead of Thanksgiving, the agency advises people to cook turkey thoroughly, making sure it reaches an internal temperature of at least 165 degrees Fahrenheit so that salmonella and other foodborne germs are destroyed.
The CDC also advises people to be sure to wash their hands before and after cooking and to clean any surfaces the raw turkey comes in contact with.
'Widespread in the turkey industry'
Health officials say they haven't identified a single supplier of raw turkey products or live turkeys as the source of the outbreak, and no products have been recalled. To date, the CDC has traced the same bacteria that is responsible for the outbreak to 22 slaughterhouses and seven turkey processing facilities.
"The outbreak strain of Salmonella Reading has been identified in various raw turkey products, including ground turkey and turkey patties," the CDC said. "The outbreak strain has also been found in raw turkey pet food and live turkeys, indicating it might be widespread in the turkey industry."
The ongoing Salmonella outbreak linked to raw turkey follows a string of others this year. Most recently, Conagra Brands recalled 2.4 million boxes of Duncan Hines cake mix over a link to salmonella.
Federal health officials estimate that salmonella causes about 1.2 million illnesses a year.
"Most people infected with salmonella develop diarrhea, fever, and stomach cramps 12 to 72 hours after being exposed to the bacteria," the CDC said. "The illness usually lasts four to seven days, and most people recover without treatment."