---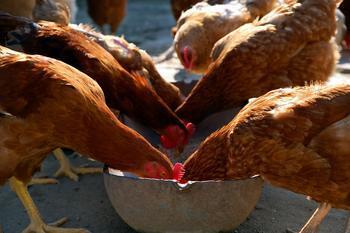 A major Salmonella outbreak traced to Foster Farms chicken processors in California has sickened at least 278 people in 17 states, the U.S. Centers for Disease Control and Prevention (CDC) said. At least 42% of those infected have been hospitalized but so far no deaths have been reported.
Most of the victims -- 77% -- are from California.
The strain in question is called "Heidelberg" -- yes, just like Breaking Bad -- and is resistant to several of the most commonly prescribed antibiotics, which adds to the risk of hospitalization and complications.
Oddly enough, the infected chicken is not being recalled. That's because Salmonella is so common in today's factory-raised chickens that it's not considered unusual or illegal. As the CDC puts it: "It is not unusual for raw poultry from any producer to have Salmonella bacteria. CDC and USDA-FSIS recommend consumers follow food safety tips to prevent Salmonella infection from raw poultry produced by Foster Farms or any other brand.
Instead of recalling the chicken, Foster Farms said it " has retained national experts in epidemiology and food safety technology to assess current practices and identify opportunities for further improvement."
"Salmonella is naturally occurring in poultry and can be fully eradicated if raw product is properly handled and fully cooked," said Dr. Robert O'Connor, the company's food safety chief and head veterinarian, said in a statement. "All poultry producers strive to reduce bacterial presence, including Salmonella. We take food safety very seriously. When the incidence of illnesses linked to Salmonella increased, we wanted to know why and we have worked quickly to identify and implement additional controls."
What to do
Basically, consumers are on their own when it comes to protecting themselves against Salmonella in chicken.
Raw poultry must be handled and cooked in accordance with the safe handling guidelines on all packages of chicken. These include: keeping the product refrigerated or frozen thawing in refrigerator or microwave keeping raw meat and poultry separate from other foods washing working surfaces including cutting boards, utensils and hands after touching raw meat or poultry keeping hot foods hot and refrigerating leftovers immediately or discarding.
All fresh poultry products should be cooked to an internal temperature of 165°F as measured by a meat thermometer.
---