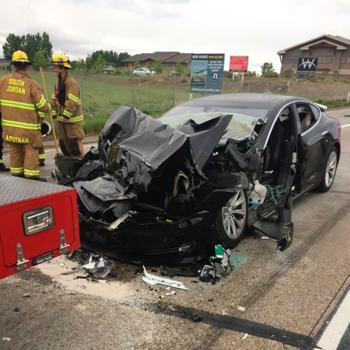 Regulators with the National Highway Traffic Safety Administration (NHTSA) are opening an investigation into a crash involving a Tesla Model S vehicle.
The accident, which took place in Utah earlier this month, occurred when a 28-year-old woman crashed into the back of a fire truck while relying on the vehicle's semi-autonomous Autopilot program. The driver told police that she was driving at 60 mph at the time of the crash while looking at her phone with her hands off the wheel. Despite heavy damage to the vehicle, she walked away with only minor injuries.
"The agency has launched its special crash investigations team to gather information on the South Jordan, Utah, crash. NHTSA will take appropriate action based on its review," the agency told Reuters.
Driver error
While Tesla declined to issue an official statement on the NHTSA's involvement, it did confirm that Autopilot was engaged when the crash took place. A company spokesperson reaffirmed that drivers using its Autopilot system are required to stay alert and keep both hands on the wheel.
"When using Autopilot, drivers are continuously reminded of their responsibility to keep their hands on the wheel and maintain control of the vehicle at all times. Tesla has always been clear that Autopilot doesn't make the car impervious to all accidents," the spokesperson said.
Tesla CEO Elon Musk took a more unbridled approach to the accident in a series of tweets, saying that it was "super messed up" that the media was focusing on this accident while far more serious incidents occurred every day. Musk even doubled down by pointing out that the lack of serious injuries could be seen as a positive.
"What's actually amazing about this accident is that a Model S hit a fire truck at 60 mph and the driver only broke an ankle. An impact at that speed usually results in severe injury or death," he tweeted.
Tesla investigations continue to rise
The NHTSA's investigation is certainly not the first aimed at a crash involving a Tesla vehicle. The National Transportation Safety Board (NTSB) is currently investigating three other Tesla accidents, with the most recent involving a fatal crash in Florida.
After facing heavy criticism from regulators and safety groups, Tesla announced earlier this month that it would be publishing quarterly reports on the safety of its Autopilot program. In an earnings call, Musk said that the company's software has room for improvement while also pointing to drivers' responsibility to stay engaged.
"When there is a serious accident it is almost always, in fact maybe always, the case that it is an experienced user, and the issue is more one of complacency. They just get too used to it. That tends to be more of an issue. It's not lack of understanding of what Autopilot can do. It's  [drivers] thinking they know more about Autopilot than they do," he said