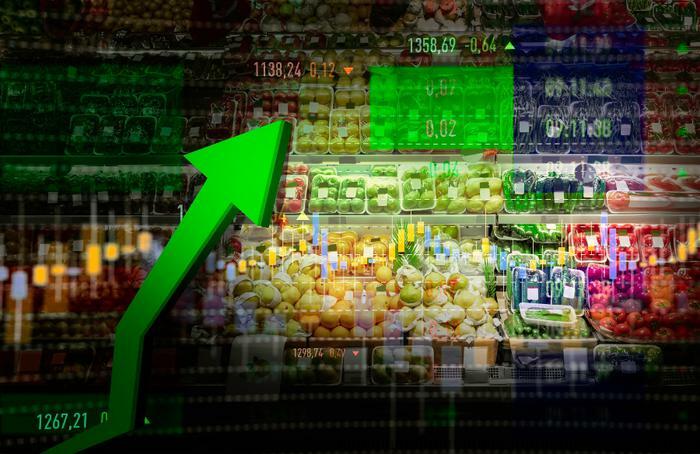 The war in Ukraine continues to disrupt the food and consumer goods chain.
If they haven't already, consumers will see depleted shelves and higher prices at the grocery store. The supply chain is stretched even further thanks to the U.S.' dependence on products imported from Russia and Ukraine.
Prices for household staples increase
Many of the foods and drinks that consumers bring home on a regular basis are going up in price. Here are a few of the food and drink categories that have been impacted by global tensions.
Soft drinks and beer: What are beer and soft drink cans made from? Aluminum. And who is in a virtual tie with India as the second-largest exporter of aluminum in the world? Russia.
Aluminum prices were already increasing, but they rose even higher last week in anticipation of sanctions on Russia and concerns that the country could halt aluminum exports altogether.
Breads and cereals: The world is dependent on both Russia and Ukraine for wheat and grain exports. In the short term, U.S. bread and cereal makers likely have enough product to fill orders, but farmers in Russia and Ukraine were hoping to plant their spring crops soon.
Agriculture industry analysts predict that there will be smaller crop yields, particularly in Ukraine, if the war continues. Historically, the country has some of the world's most productive farmland. It accounts for 8% of global wheat exports and 13% of global corn exports, according to U.S. Department of Agriculture data.
"For certain parts of the world it means more expensive food," said Svein Tore Holsether, chief executive officer of Norway-based Yara International ASA, one of the world's largest fertilizer makers. "Yields could drop by 50%."
Meat: Most consumers don't think about the connection between wheat, corn, and meat products, but what do cows, chickens, and pigs eat? You got it – grain – and Russia and Ukraine supply much of what the U.S. uses.
James Halverson, a rancher in Beulah, Wyo., and executive director of the South Dakota Stockgrowers Association, said feed costs have jumped recently, cutting into ranchers' bottom lines. That means customers might have to pay even more for meat.
Cars and car parts also impacted
The automotive industry was already suffering due to a global chip shortage that had hampered production. The war between Russia and Ukraine isn't likely to make that situation any better.
Electronics manufacturers need nickel to build batteries that power devices and vehicles, and Russia supplies about 20% of the world's high-grade nickel. With nickel exports being threatened, the downhill effect could be higher prices on battery-powered products. Nickel prices have doubled in the last week, and one expert says that will likely get worse.
"The average nickel value contained in lithium-ion batteries per vehicle in North America was $620 at the end of last week," Michael Insulan, the VP of Commercial at Electra Battery Materials, told ConsumerAffairs.
Insulan thinks nickel could trade at $100,000 per tonne by next week. That means the average North American electric vehicle would contain more than $2,000 worth of nickel in batteries.
At that point, automakers face the problem of how to deal with a cost that is mostly outside their realm of influence. How they solve that issue is not yet clear, but Insulan thinks several options may be considered.
"A vehicle price surcharge based on underlying battery commodity prices is one option; that is, let the consumer pay the price," he said. "Even if consumers are willing to accept surcharges, they may delay purchases until vehicles are deemed more affordable. But for the price of a trailer hitch, a consumer may go ahead and take delivery of a car even at $100,000 per tonne [of] nickel."