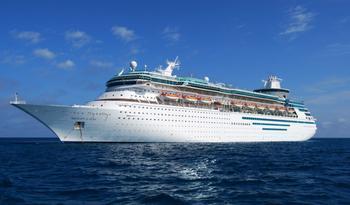 A lawsuit has been filed against Royal Caribbean for allegedly not making an effort to save or recover the body of Bernardo Texeira Garcia -- a passenger who had fallen overboard.
The federal complaint, filed Tuesday by Erik Elbaz -- the victim's husband, states that ship employees were hostile towards the couple before the incident occurred on November 6, 2015. They allegedly used homophobic taunts and slurs, and complaints the couple made to supervisors led nowhere.
Elbaz says that the situation came to a head when one employee called Garcia a "pedophile." The couple returned to their stateroom very upset and, a short time later, security officers arrived and threatened to arrest Garcia, the suit alleges.
The complaint goes on to say that a distraught Garcia then fell from the room's balcony and landed on lifeboats located on a lower deck. Though crewmembers held onto him for several minutes, they ultimately failed to secure Garcia and he fell off the ship.
Told to calm down
Elbaz alleges that he pleaded with Royal Caribbean officials to stop the ship and turn back for his husband, but was simply told to calm down. "Royal Caribbean failed to deploy lifeboats within a reasonable time and failed to promptly stop and/or return the ship around," Elbaz says in his complaint.
The U.S. Coast Guard was notified of the incident by Royal Caribbean, but a search-and-rescue operation was unsuccessful, as a body was never found.
Elbaz is suing Royal Caribbean and seeking compensatory damages for negligence, infliction of emotional distress, and violations of the High Seas Act. The suit points out that there have been 16 incidents of a passenger falling overboard on a Royal Caribbean voyage between 2000 and 2015; only three of those victims survived.
At the time of posting, Royal Caribbean Cruises had not responded to a request for comment from Courthouse News Service.