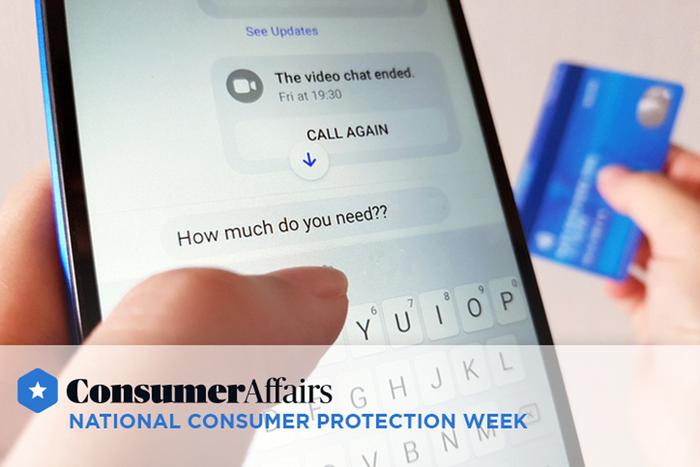 Though Valentine's Day may be in the rearview mirror, that doesn't eliminate the looming threat of romance and dating scams that are out there. According to the Federal Trade Commission, consumers lost nearly $550 million to romance scams in 2021 – a figure that was up 80% from the year before. 
For National Consumer Protection Week, ConsumerAffairs is highlighting some of the biggest romance/dating scams, while also offering tips for consumers on how to spot these scams, and most importantly, hopefully avoid them! 
Many romance scams follow the same pattern: a scammer will create a fake profile online, they develop relationships with their victim and advance things very quickly, they ask their new "love interest" for money, and after receiving it, they never speak to the person again. 
Romance scammers can be lurking on dating apps, social media platforms, or other online sites where users can communicate with each other. They also tend to tell the same stories to their victims: they're located far away, they move the relationship along quickly, they ask for money, they ask for specific payment methods, they break promises, and they generally seem too good to be true. 
What do these scams look like?
There is no shortage of examples of romance scams. ConsumerAffairs has recently reported on several such instances. 
For instance, an elderly woman in Indiana lost nearly $100,000 after matching with a man on a dating app who quickly asked her for checks to help fund his construction business. The victim, Pat Breitkreuz, reported that the man she met, Lewis, had an accent that she had trouble understanding on the phone and was quick to move the conversation off the dating app – one of the telltale signs of a romance scam. 
Though Lewis promised Pat he'd come to visit her, he never did -- another one of the ways that scammers get unsuspecting people to keep interacting with them. However, Pat sent him checks totaling over $98,000. After he sent her a contract asking for $500,000 to invest in his business and Pat discovered the address on the document was fake, she realized she had been scammed. 
Another recent example detailed a 65-year-old woman in Japan who lost about $30,000 to a man who told her he worked for the International Space Station. The two met on Instagram, and after nearly no time at all, the man proposed marriage. The only sticking point: he was in space. 
He asked his new love interest to send him installments of money that would help fund his return trip to earth. While the victim sent him money at first, the more he asked for, the more skeptical she became. Though she ultimately reported the incident, it wasn't until she lost nearly $30,000. 
How to protect yourself from romance scams
Perhaps the biggest piece of advice if you think you're involved in a romance scam is to never send money or gifts to anyone you haven't met in person. This is typically the surefire way to know that someone is scamming, and it's safest to never send anything. 
The FBI shared several tips for consumers to protect themselves from romance scams: 
Don't rush the relationship and don't be afraid to ask questions 

Requesting financial or personal information or trying to isolate you from friends and family should be a red flag

Do your own research on any potential romantic connections

Consistently blowing off plans or rescheduling – especially after months of talking – can be the sign of a scammer

Be cautious with any personal information, photos, etc. that are posted online

Anyone who seems too good to be true, or who immediately wants to communicate off of the dating app or social media platform, may have ulterior motives 
What to do if you've been scammed
Many victims of romance scams are embarrassed to report when these things happen, but local and federal authorities should know about these scams. If you suspect you're involved in a romance or dating scam, the first step is to cut off communication with the person.
If you've sent this person money, contact your bank as soon as possible to report the incident and try to get your money back. Then, report it to your local law enforcement. Lastly, report it to the Federal Trade Commission at ReportFraud.ftc.gov.