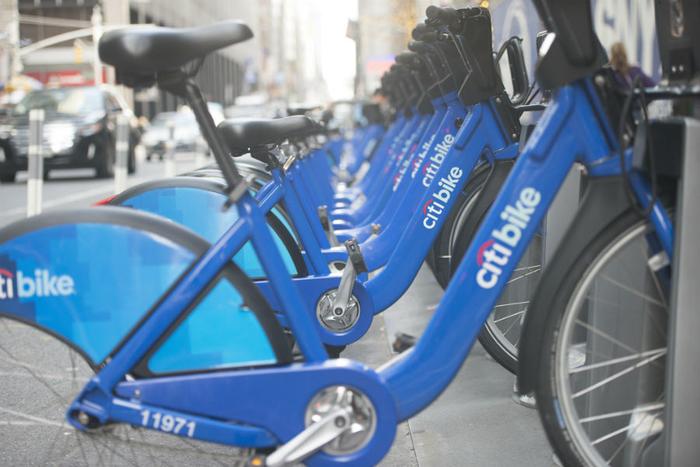 When Uber purchased the dockless electric bikeshare company Jump earlier this year, CEO Dara Khosrowshahi explained at the time that the company's ultimate goal is "making it easier to live without owning a personal car."
Lyft, the closest thing that Uber has to a direct competitor in the rideshare business, has clearly heard that message loud and clear.
The popular, albeit smaller, rideshare service on Monday announced that it was purchasing Motivate, the most widely used bike share company in the United States, for an estimated $250 million.
Motivate is the company behind New York City's Citi Bike program, Washington D.C.'s Capital Bikeshare, and Boston's Blue Bikes, to name just a few of the nine cities where the company operates under private-public partnerships.
Going dockless?
Motivate's business model of placing bike docks activated by a credit card in strategic locations across major cities proved to be a winning formula, with New York City reporting a massive uptick in bike commuters last year thanks in part to the Citi Bike program.
Motivate's business model in recent years spawned imitators who opted to ditch the bike docks all together, with companies like Lime Bike and Ofo ushering in a new phase of dockless bike pile-ups, dockless bike vandalism, dockless bike fights, and general dockless bikewars in cities such as Dallas and San Diego.
Jump, Uber's bikeshare investment, has said that their electric, dockless bikes will come equipped with a lock that must be attached to a fixed object, rather than itself, in order to prevent people from dropping their bikes wherever they please once they are done. The company's service is currently being tested through a pilot project in San Francisco.
It's unclear if Motivate also plans to go dockless or if they will stick to their current model under Lyft's ownership.
"Lyft and Motivate have both been committed for years to the same goal of reducing the need for personal car ownership by providing reliable and affordable ways to move around our cities," Lyft co-founder and president John Zimmer said in a statement.
The growing bike-sharing industry
It's not Lyft's first partnership with a bike share company. In February the service announced that it was spearheading a $270,00 pilot program in Baltimore, in which electric-assist bikes could be parked at docks located near popular pick-up and drop-off spots for Lyft passengers. The hope was to create what Lyft described as a "multimodal transportation future."
Meanwhile, on Monday, the same day that Lyft announced its acquisition of Motivate, Uber invited customers to join a subscription service that would include access to one's own personal electric bike for $12 a week, a fee that would include "unlimited use of your own dedicated JUMP Bike and charger" and free repairs.