---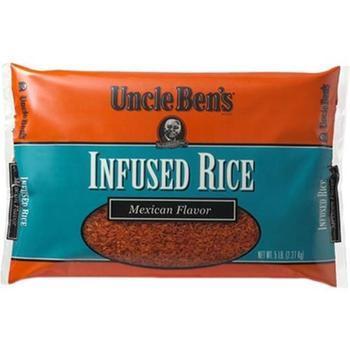 It was a little puzzling to read the recall notice for Uncle Ben's Infused Rice yesterday. "Consumers have experienced mild flushing and rash after eating the Mexican flavor product," the notice said but did not offer any other explanation.
It didn't seem logical that everyone had suddenly developed a rice allergy but Food Safety News dug around and came up with a more logical explanation: too much niacin, also known as vitamin B3.
Mars Foodservices, which long ago supplanted Uncle Ben in the rice business, says that federal standards require the enrichment of rice with niacin. That's because getting too little niacin can cause pellagra, a condition marked by skin, digestive and mental problems.
More isn't always better
But getting too much niacin isn't good either. It can cause liver damage and other problems. Even regular doses can cause the "flushing" that led to the current recall. Flushing is a mild condition characterized mostly by a reddish flush to the skin and a feeling of being hot and tingly. It's not serious and generally goes away in an hour or so.
The rice recalls follow several episodes in which school students and teachers reported feeling bad after eating Uncle Ben's rice. The latest incident occurred in Katy, Texas, where 34 students and four teachers came down with flushing symptoms after lunch. Similar incidents occurred earlier in Illinois and North Dakota.
Writing in the Boston Globe today, Dr. Claire McCarthy, a pediatrician at Boston Children's Hospital, says the episodes show that, while consumers tend to think adding vitamins to food is a good thing, it's not always so.
"The best, safest and healthiest way to get vitamins is from the foods that naturally contain them. For niacin, the best sources are meats, legumes and nuts. Basically, if you eat a varied diet, including meat, seafood, dairy, legumes, whole grains, fruits and vegetables, you will get the vitamins and minerals you need (you can get what you need without animal products, but it takes a bit more work)," she said.
For that matter, vitamin pills can cause problems too, McCarthy noted.
"More isn't always better. In 2012, vitamins were the fifth most common poison exposure for children less than 6. Overdosing on iron can be especially dangerous. And since children's multivitamins are generally designed to look and taste good, it's not uncommon for kids to think of them as candy--and eat way too many," she cautioned.
McCarthy also noted that studies have shown that taking multivitamins doesn't prevent chronic illness in adults. At best, they're a waste of money, she said.
There are, of course, some people who have special dietary needs. Always check with your physician before making major changes in your diet.
---