---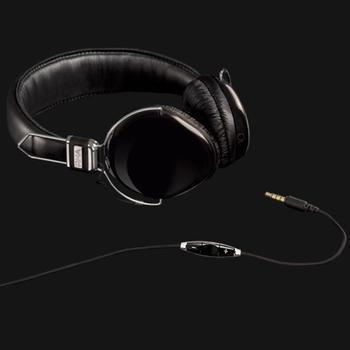 If you haven't noticed yet, headphones have gotten pretty big in size lately.
There seems to be a new correlation that has developed between high-quality listening devices and their size, because several companies like Beats by Dre and Soul by Ludacris, have released some pretty well-received headphones that are big and cover the ears from top to bottom.
The big headphone craze is a total departure from the earbuds that really came onto the scene when Apple made the average consumer want to listen to music on the go rather than at home through huge house speakers.
That's certainly not to say that people don't crank up the old home stereo anymore, it's just that the new generation of music fans would rather access a digital music catalogue--that contains thousands of songs--rather than buy an album and soak it up on their living room couch.
And because of this shift in the way folks listen to music, the electronic music device became the common way people access their favorite songs, and headphones, which weren't really on the minds of consumers that much before, became the common accessory for people who wanted to maximize the power of their mp3 player or smartphone.
Buds to cups
And just when you thought consumers would stick with that skinny white chord to listen to their devices, you slowly but surely saw more people replacing earbuds with colossal-sized ear cups, which many people associate with a better and more powerful sound.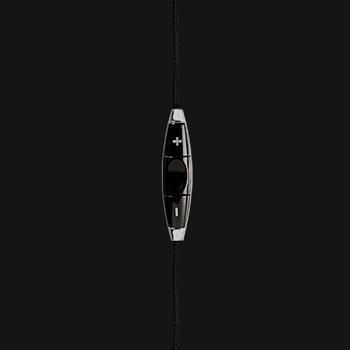 But why haven't more companies developed circular headphones that are smaller in size but still pack a serious musical punch? Since lighter headphones are easier to stick in your bag and wear around your neck between listens, you'd think they'd be more popular.
The RHA SA950i headphones are in this category of smaller headphones, as the British company that designed them created a pair of listening tools that are much smaller in size compared to other brands. And for that very reason, I was interested to see how they would measure up.
I wanted to compare the RHAs to some of the better headphones that we reviewed over the course of 2012 like the Sennheiser HD 558s and the Bose Audios, just to see where they fit in terms of design, overall power and sound clarity when a device is played at maximum volume.
Applecentric
But first a little bit about the RHA SA950i headphones:
The company says the headphones are designed and engineered at RHA's research and development center in Glasgow, United Kingdom, which suggests that some sort of science and research has been put into making the headphones, as opposed to just slapping them together with a cool look and average sound.
The SA950i comes in jet black and the outside of the cups are coated in a smooth titanium material that gives the listening device a sleek fiberglass look.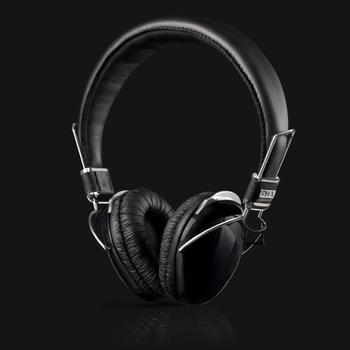 The cable is made of braided fabric and looks like a thin string rather than a wire, and on the cable sits a sliding remote control that allows you to manipulate the volume, forward a song, rewind it, pause it or play it.
The tiny remote control also lets you use the headphones as a microphone to record your voice or capture your surroundings.
But the remote can only be used with iPhones, iPods and iPads, as the headphones are really made to be used with Apple products, but you can still use them on other devices--including your laptop and home computer--but in these instances you won't be able to use the remote control.
One of the best features of the headphones is their light weight and extreme portability, as I noticed the cups sat comfortably on my ears without creating an annoying heaviness. They also didn't cause my ears to feel suffocated or overheated like a lot of bigger headphones can do.
The overall design of the RHAs is pretty spiffy too, so if you're into a stylish headphone that's not too teenage-looking they may be right up your alley.
Compared to the Sennheisers for example, the RHA headphones win in the design category as they are more pleasant to look at and the foam padding inside the ear cups make for a much more comfortable fit.
Half the size
The SA950i model is about half the size of Beats by Dre headphones and easier to carry, which comes in handy if you're a person that stays on the go and has to shuffle headphones in and out of a bag during travels.
And how did the RHAs compare to the better headphones that we reviewed this year in terms of power and clarity?
When played against the Sennheisers, I can't say the RHAs beat out the German headphones in fullness of sound, as it appears the Sennheiser company really made the type of headphones that are worn in music studios and by studio engineers.
But that's not to say the RHA headphones lacked power, as each song that was played thumped very strongly without losing detail of sound or removing the richness of each tune.
And although the UK-made headphones didn't exceed the clarity levels of Beats by Dre or Bose models, they still held their own for such a small and portable listening device.
This power was evident when I played songs with a lot of alternating highs and lows, as string instruments were heard with a shrieking crispness and I was able to hear the clear sound of thumbs being used on bass guitars.
Now mind you, the RHA SA950i headphones at around $60 on Amazon are far less expensive than the other headphones mentioned in this review, so comparing them to brands that are hundreds of dollars more isn't truly fair.
But the best way to gauge a product regardless of the price is to compare it to the industry's best, just to see where it falls on the overall quality meter.
And just where does it fall?
The RHA SA950i is ideal for the consumer who wants a solid pair of headphones but doesn't want to upset the wallet. Also, the small size and light weight makes the headphones easy to carry without that cumbersome feeling that many other bigger and less powerful circular headphones have.
RHA did a pretty good job of making a headphone that plays more powerfully than its size and for the inexpensive price of $60 consumers should be able to get their money's worth.
Now just how long the headphones will last without breaking or losing some of its above-average sound remains to be seen, as I've been using the RHAs for a little over a week, but so far so good.
---