---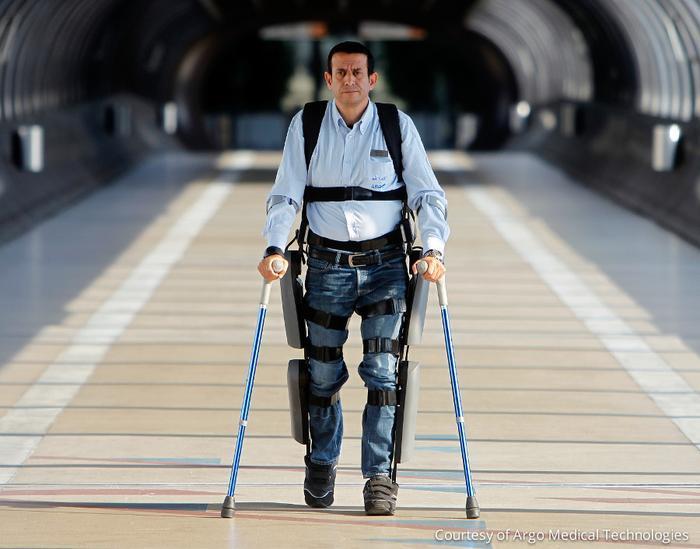 It's been a dream of health researchers for decades – to help victims of spinal cord injury, confined to wheelchairs, to one day get up and walk again. So far, it's been an elusive goal.
But in June the Food and Drug Administration (FDA) gave its approval to a medical device that has the potential to allow thousands of people with spinal cord injuries to walk again. The device, called ReWalk, doesn't heal them. In a way, it makes them bionic.
ReWalk is a motorized device worn over the legs and part of the upper body that helps an individual sit, stand, and walk with assistance from a trained helper. The company calls it an exoskeleton.
Life-changing impact
"This revolutionary product will have an immediate, life-changing impact on individuals with spinal cord injuries," said Larry Jasinski, CEO of ReWalk Robotics. "For the first time individuals with paraplegia will be able to take home this exoskeleton technology, use it every day and maximize on the physiological and psychological benefits we have observed in clinical trials. This is truly the beginning of 'ReWalking' as a daily reality in the U.S."
It won't work for all spinal cord injury victims. The FDA has cleared it for those with paraplegia due to spinal cord injuries at the seventh thoracic vertebra to fifth lumbar vertebra. The agency also approved a version of the device for use in rehabilitation settings, where the victim has suffered injuries at the fourth thoracic vertebra to the sixth thoracic vertebra.
Those using ReWalk will be somewhat limited in their motion. They can't climb stairs and they will need the use of crutches and the support of another human being. Still, that might be considered a small trade-off when you consider they will no longer be confined to a wheel chair.
How it works
ReWalk is a system of braces, computers and motors the provides user-initiated mobility. The motors supply movement at the hips, knees, and ankles. A backpack contains the computer and power supply.
Crutches provide the user with extra stability when walking, standing, and getting out of a chair. Using a wireless remote control worn on the wrist, a user operates the device, telling it to stand up, sit down or walk. The company says it allows independent, controlled walking while mimicking the natural gait patterns of the legs, similar to that of an able-bodied person.
In announcing its approval for the marketing of ReWalk, the FDA struck a hopeful tone.
"Innovative devices such as ReWalk go a long way towards helping individuals with spinal cord injuries gain some mobility," said Christy Foreman, director of the Office of Device Evaluation, at the FDA's Center for Devices and Radiological Health. "Along with physical therapy, training and assistance from a caregiver, these individuals may be able to use these devices to walk again in their homes and in their communities."
Thousands of potential beneficiaries
The FDA says there are about 200,000 people in the United States living with a spinal cord injury, many of whom have complete or partial paraplegia. It's not known how many will qualify for use of ReWalk but it isn't unrealistic to expect the number to be in the tens of thousands.
U.S. Marine Corps Captain Derek Herrera will be one of the first to get ReWalk. Herrera, a paraplegic, trained on the ReWalk Personal System as part of the trial.
"I see this as a milestone for people in my same situation who will now have access to this technology – to experience walking again, and all of the health benefits that come with ReWalking," Herrera said.
The trial data shows that the ReWalk system has other benefits besides helping a paraplegic to walk again. Because it gets them up and walking, study subjects showed improvements in cardiovascular health, loss of fat tissue, building of lean muscle mass, and improved bowel function.
Rewalk is now available for purchase by rehabilitation hospitals. The company has not published price information on it's website.
---