---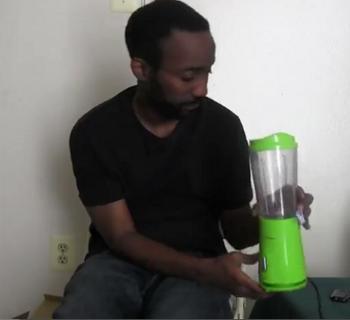 Sometimes morning commutes can be all-out war and the battlefield is either the highway, the local roads or public transportation, and just to survive and make it to work on time, commuters will arm themselves with whatever they can to make the commute easier, whether it's loud music to drown out the surroundings, a book or newspaper for public transportation or a nice morning drink to help calm the nerves.
And whether it's a cup of coffee, an energizer drink or a smoothie, a nice early-morning beverage can be all that's needed to get you into your workplace on time and ready to go.
Some folks will stop in at a convenience store for their beverage, others will go to a local drive through, but the easiest and most time-saving way to get your morning drink is to simply make it at home and bring it along with you.
The Hamilton Beach Single Serve Blender for $14.99 on Amazon is supposed to be an easy way to blend smoothies, shakes or ice drinks with just one touch of a button, and it's also supposed to blend everything in just a few seconds.
From there, the Hamilton is supposed to be easy to unscrew, so it can go from a blender to a travel cup pretty much instantaneously.
The blender makes beverages about 14 ounces in size, and is supposed to be faster and less messy than using a traditional sized blender, since you don't have to transfer the contents into a separate cup.
The company says the Hamilton is also supposed to be all about convenience and speed, which are two things that every morning commuter needs, because fumbling around with a heavy kitchen appliance while you're still half asleep just isn't ideal.
And how did this miniature and portable blender perform? Check out this video or continue reading below.
Smoothly blended
I must say, it was more powerful than I anticipated, as it blended the ingredients of my banana smoothie in just a few seconds without the blades getting caught or slowing down.
After blending the smoothie for a few seconds, there were one or two ice-chips left behind, but I'm confident if I would have pressed the button for just a few more seconds, there wouldn't have been any ice chips at all.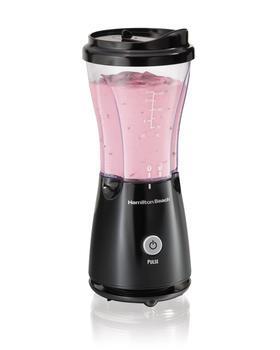 In addition, the-one-touch-of-the-button aspect of the blender makes it very easy to use, since you don't have to turn a knob to a specific speed or fumble around with multiple buttons -- you just have to add your contents, press the button slightly and then lift the container from its base so you can bring it along on your travels
The company says the container fits in most drink holders, so you don't have to lug it around while you're driving or leave it in the seat where it'll probably spill.
The blades are made of stainless steel and the blender is small enough to store in your cupboard or leave on your countertop without taking up too much space.
Price is right
And although I liked the Hamilton upon first use, it's obviously difficult to determine how durable the blades will be after extended use or how long the plastic container will hold up after many washes or after a lot of years of wear and tear.
I also found the container to be easy to lift off the base, as I didn't have to struggle or keep twisting it to remove it. I barely used any force at all and the blender came off very easily.
But probably the best thing about the Hamilton Beach Single Serve Blender is its price of $14.99 on Amazon, since it shouldn't break the bank. And even if it only lasts for a couple of years before it's less powerful, I think it's still a pretty good bargain.
However if you decide to pick up the blender in a department store like Target or Bed Bath & Beyond, it will probably run you a little bit more.
So the next time you want a new weapon in the battle of getting to work, the Hamilton Beach Single Serve Blender should serve you pretty well. Now whether it stands the test of time after repeated use is another story entirely.
---