---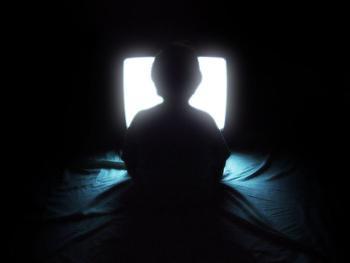 For years now, we've been hearing that Apple, Google, Microsoft and even upstart Ubuntu were just about to unveil a magical device that would enable us to watch TV from over-the-air, cable, DVD and Internet sources without the usual tangle of cables and remotes.
While none of these miracles has yet come to pass, Samsung has come up with a pretty good bridge technology in its collection of Smart TVs. Their built-in wi-fi capability and a growing collection of apps lets you watch Internet sources including Netflix, Amazon, Hulu without having to fool around with a Roku box or other external device.
Of course, the flat-screen LEDs also connect to cable, DVDs and plain old TV antennas, putting just about everything in a single package. The dream of running everything with a single remote isn't quite here yet for most of us but putting the Internet into the TV's circuitry is a stap in that direction.
We grabbed a 32-inch Samsung TV for a bit less than $500 a week or two ago to see just how this all hangs together. Its permanent home is in our home office and dungeon, where there's no cable or over-the-air access, but for testing purposes we let it spend a few days in the family room hooked up to FiOS.
The picture quality on HD sources is excellent -- black blacks, lots of contrast, quick response, all those good things.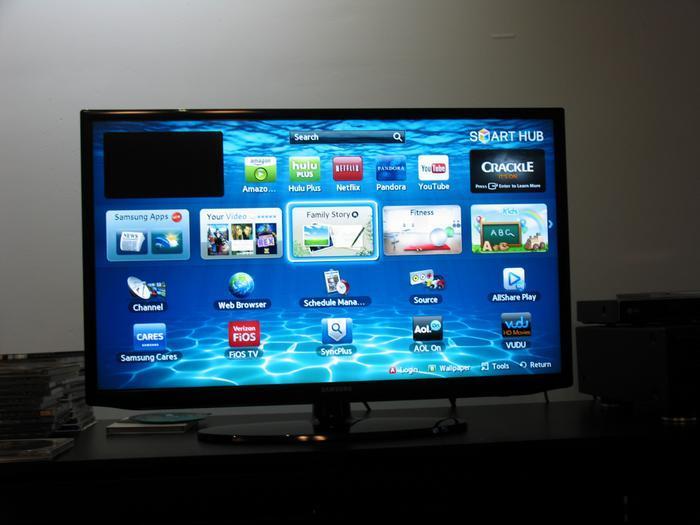 Auto Volume
We were particularly interested in trying out something called Auto Volume, a feature that is supposed to level out differences in volume from one program source to another (like, uh, between shows and commercials). We wrote about this a few weeks ago and had no trouble hearing the response: this is something consumers want.
Our tests found that, sure enough, the audio level was pretty consistent when Auto Volume was enabled. Commercials didn't come blasting through like a freight train and words of love so warm and tender were clear and distinct.
And speaking of sound, we found the sound quality to be better than we've come to expect. Flat-screen TVs, after all, don't leave much room for speakers so it's always best to use an external sound system. But for watching talking heads and shows that are mostly dialog, the sound from the Samsung is quite adequate. For lack of a better term, it's crisper than many of its competitors.
We also found that switching into Internet mode is relatively quick and extremely simple, once you get the hang of it. We like to have Tony Soprano and the Breaking Bad bunch keep us company in the dungeon, courtesy of Netflix and Amazon, something the Samsung had no trouble with.
There was a report last month that hackers could find a way to take control of the camera and microphone in Samsung Smart TVs and use them to spy on viewers. Perhaps this is possible but it's not something we're worried about. Tony and the boys will make short work of anybody who hacks his way into the dungeon.
---