---
In this modern era of digital gadgets and expensive electronics, a lot of the items that many of us grew up with are either completely gone or are now collectors' items.
Whether it's a toy from our childhood that we loved or an item that we used everyday like a record player, it's nice to sometimes think about certain products from our past, and many of us wish we could buy those products again, either to own or pass off as gifts.
Well today, selling items that remind of us of our childhood is pretty big business, as a lot of people continually seek out those products that they owned while growing up.
The appeal of purchasing retro-style products could be to remind consumers of a simpler time. Or maybe parents want to introduce an item to their children to teach them of how products were used in their time.
Either way, a lot of retro products that are sold nowadays aren't the original item. Instead, brands are using a throwback design and mixing up a little modern-day knowhow, to give the consumer a pleasant whiff of nostalgia while also improving upon the original concept of that product.
Like when the clothing store Urban Outfitters released an mp3 player that looked just like a 1980s Sony Walkman.
Although the device had all of the functions of a modern-day digital player, it looked exactly like that first Walkman many of us got for the holidays when we were kids.
For many consumers owning or giving a gift like this represents the best of two wonderful worlds. It gives us a nice reminder of our shopping pasts, while also bringing us to the current day of gadgets that are built to be intuitive with many useful functions.
Plus, with the holiday shopping season upon us, buying someone a gift that takes an idea from a product that was made many years ago is a fun and unique approach to gift-giving.
It's safe to say that a lot of people won't see a retro gift coming, and a lot of times you won't have to spend a whole bunch of money.
Record player, sort of
Take the Crosley Lancaster Entertainment Center, for example. Encased in a wooden box that could easily sit on one's shelf or countertop, it resembles that old phonograph your parents had, that you weren't allowed to touch as kid.
And although at first glance it looks just like a record player, the Crosley also has a hidden compartment to play CDs, and you can play the radio and old cassette tapes too. You can also attach your mp3 player when you feel like having digital sound instead.
Quite simply, the Crosley has about four generations of music-playing capabilities in one unit, which is pretty cool. Of course it's not the only product of its kind on the market, but it seems to be one of the most popular and best-priced.
Apparently, Amazon sells this item the cheapest at $103.00, but you can also get it at places like Target, Walmart and other retail stores for a little more. Staples sells the Crosley for about $120.
Koolatron
Also in the retro product category is the Koolatron CVF18 10-Can Capacity Vending Fridge. And what does all of that mean? The Koolatron is a cool throwback mini vending machine that's a perfect holiday gift for the soda lover in your life.
The miniature Coca-Cola vending machine is about half the size of an actual soda machine, so it's perfect for a basement, den, TV room or office. It also has that cool throwback look, like it's a soda machine from the 1950's, so the look of it alone will attract consumers who seek that authentic retro design in a product.
The Koolatron holds ten cans at once, while keeping the sodas refrigerated.
And besides it being a great conversation piece, there's something cool about being able to press a vending machine button in your house and getting your favorite soda without using any change. The Koolatron is sold in both online and retail stores for under $200.
Flashback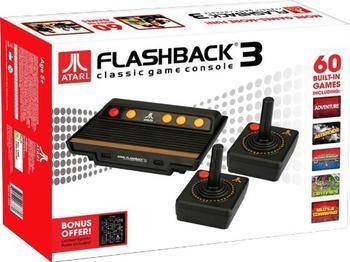 One of the retro products that was really great to see modernized is the Atari Flashback 3, which looks just like the Atari 2600 on the outside, but has 60 games on the inside, which is better than having those old game cartridges that many of us used when Atari first popped on the scene.
The Flashback 3 goes for about $75 on Amazon and comes with all the classic Atari games that were popular way back when like Asteroids, Centipede, Combat and Gravitar.
The Atari Flashback series has been out for years now, and this holiday season it still remains a relatively inexpensive gift that can create a nice feeling of cozy nostalgia for anyone playing it.
Retro clock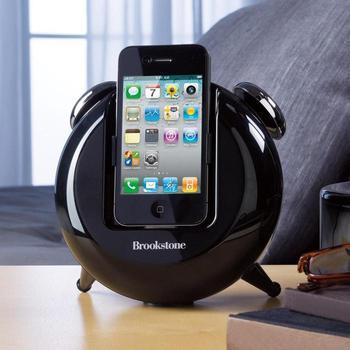 Another retro product that's made in a modern way is the Brookstone Retro Clock made by iDesign, that's part throwback alarm clock in shape, and part 2012 alarm clock in function.
Users can attach their smartphones to the docking station and download a free app that wakes you up, tells you the weather and plays music.
The clock also rotates 90 degrees, so Apple devices can be positioned if one wants to watch a movie or play video games, and it comes equipped with full range stereo speakers as well.
The Brookstone clock makes a pretty good stocking stuffer for iPod and iPhone users, and being round and compact, it can be easily transported and takes up a small amount of space on a counter-top or nightstand.
Also, the very look of the clock makes it much more fun to use for waking up, than just using your smartphone.
So while we're in the throes of the holiday shopping season and were amongst a host of expensive gadgets and new products, it's sometimes nice to return to an old item that's been technologically spiffed up.
It gives us an appreciation of some of the products we used as children, and it also gives us a level of appreciation of today's level of technology and product advancement.
---