---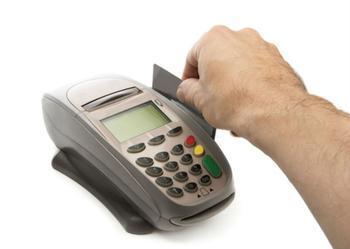 About five years ago, the Federal Reserve stepped in and imposed a cap, significantly lowering the "swipe fee" credit card lenders charged for each debit card transaction.
Mallory Duncan, a senior executive at the National Retail Federation (NRF), says the nation's retailers have passed along two-thirds of the $8.5 billion in annual savings to consumers. But he says the cap should be even lower.
"In most cases, 24 cents per transaction represents a significant savings over the prior non-competitive pricing," Duncan said in a statement. "However, it is still substantially higher than issuers' incremental costs."
Key issue
The key, Duncan says, is following Congress's stated goal of keeping the transaction fee in line with banks' actual costs of processing the transaction. Looked at that way, he says, 24 cents is still overcharging both retailers and consumers.
Duncan made his comments to the Federal Reserve, which is required to review the swipe fee cap as a normal part of the regulation process.
The cap on swipe fees came about in the aftermath of the financial crisis. The sweeping Dodd Frank law required the Fed to monitor transaction fees, to ensure that they were "reasonable and proportional," and that banks weren't making up for declining profits elsewhere by jacking up the revenue flowing from the retail sector.
12 cents became 24 cents
Originally, Federal Reserve staff estimated the average cost of processing a transaction at 4 cents, and recommended limiting the swipe fee to no more than 12 cents.
So how did it get to be 24 cents? Duncan says intense lobbying by the banking industry resulted in a cap of 21 cents, plus 0.05% of the transaction for fraud recovery, allowing another one cent for fraud prevention in most cases.
Last October liability for fraudulent debit and credit card purchases switched from lenders to retailers, with the introduction of the chip-and-signature card system. Duncan says the result has meant the banks' fraud recovery costs have gone down, and that credit card companies "may no longer have a legitimate basis" for collecting the fee dealing with fraud.
---