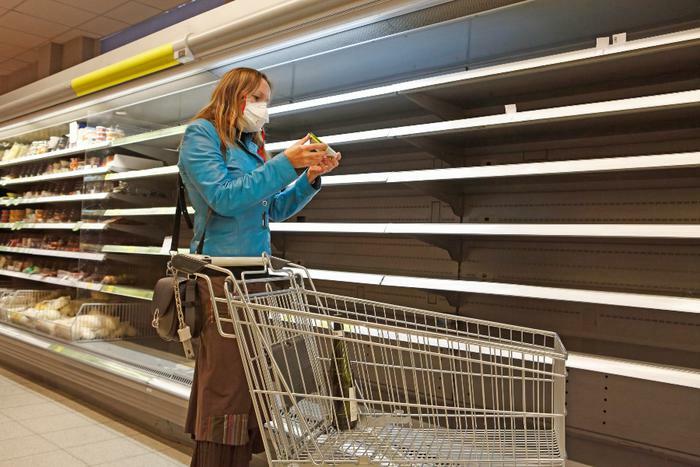 Empty store shelves, a fixture during the early days of the COVID-19 pandemic, are back. Consumers around the country report that many items are once again hard to find.
In the Dallas area, over-the-counter (OTC) medications are harder to find. The Dallas Morning News reports that spot checks at eight Walmart, Target, Walgreens, CVS, and Sam's Club locations in northeast Dallas found many empty shelves. 
In the nation's capital, a number of stores are offering reduced supplies of products. According to Fox 5, a Washington, D.C. TV station, grocery shoppers are encountering reduced supplies of beef, pork, eggs, and maple syrup. 
Trader Joe's customers have taken to Reddit to report bare shelves in stores throughout the Mid-Atlantic region. 
Reduced workforce
Industry insiders point to several factors contributing to shortages. While normal supply chain functions have slowly improved, snowy weather along the East Coast in the last couple of weeks made supply chain problems worse.
A bigger factor may be the fast-spreading Omicron variant of COVID-19 that is sidelining thousands of workers who normally load trucks and restock shelves. Helen, of Milwaukee, tells us that she encountered this problem when she attempted to pick up her prescription at a CVS drive-thru.
"Get to the pharmacy, the drive-thru is closed," Helen wrote in a ConsumerAffairs post. "Call the pharmacy and they said they were short-handed and could not give me my paid prescriptions through the drive-thru, that I had to come in and pick up my drugs. I stated that I am a high risk for COVID. That's why I use the CVS drive-thru. She said she couldn't help me."
A report by Slate suggests that the latest shortage of consumer goods could last for a few more weeks. It notes that supermarkets have been hard-hit by the Omicron variant at a time when staff levels were already low.
Meanwhile, Bloomberg reports that cases of the virus have surged among the staff of SpartanNash, a major Midwest grocery chain and supplier. It reports that about 1% of the company's employees have tested positive in the last few weeks.