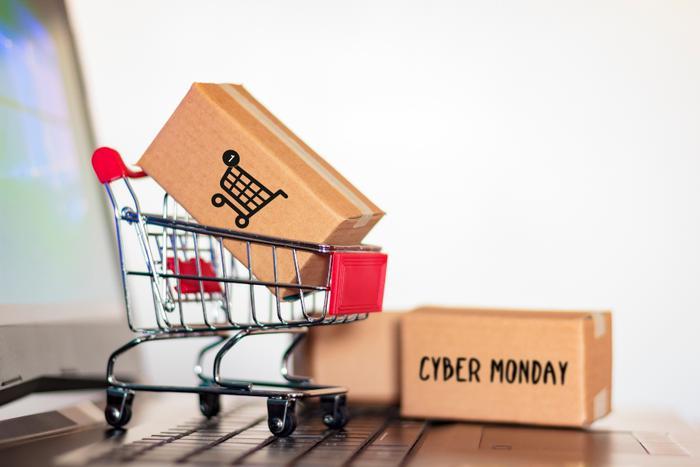 Retailers are counting on a strong Cyber Monday to wrap up their Thanksgiving shopping season. The National Retail Foundation (NRF) stated that close to 2 million additional consumers will have shopped over the holiday weekend when compared to last year.
That amounts to an estimated 158.3 million people, up from 156.6 million last year. However, it's still about 7 million short of the 165.3 million shoppers in pre-pandemic 2019.
"We're expecting another record-breaking holiday season this year and Thanksgiving weekend will play a major role as it always has," NRF President and CEO Matthew Shay said. "Nonetheless, consumers are starting earlier than ever to be sure they can get what they want, when they want it, at a price they want to pay."
Shay said this year's uncertainty about the supply chain caused shoppers to order early so they could avoid any potential delays.
"Black Friday stopped being a one-day event years ago, and this year some consumers started shopping for Christmas as early as Halloween," he commented.
Shoppers opt for the personalized route
Consumers are also changing their tune a bit on what they shop for. Rob Garf, VP and GM of Retail at Salesforce, told ConsumerAffairs that the trends his company is seeing lean toward personalized and relevant engagement during Cyber Week 2021. 
"Retailers are tuning their marketing messages to target consumers over Cyber Week. Our data shows that personalized promotions grew two times faster than generic promotions compared to last year," he said.
Garf noted that the winners over the Black Friday weekend include:
Luxury handbags -- Sales were up 47%, with calfskin bags, satchels, and crossbody bags coming in as the most popular selling luxury handbag items.

Furniture -- Sales were up 40%, with chairs, mattresses, and sofas being the most popular selling furniture items.

General footwear -- Sales were up 27%, with clogs and boots being the most popular footwear types.
Garf said consumers shouldn't set their expectations too high when it comes to prices and sales this year. The Average Selling Price (ASP) over Cyber Week (Tuesday-Sunday) is up 13% in the U.S. compared to last year, which is great for retailers. On the flip side, the average discount that U.S. consumers were getting during Cyber Week was 26% off full price, which is down 9% year-over-year.