---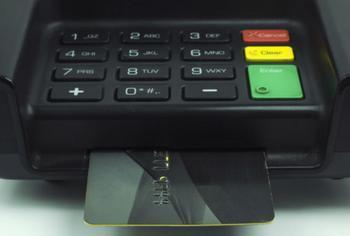 The nation's retailers appear to be renewing their feud with credit card companies over the fees they charge for processing credit and debit purchases.
Earlier this week, the National Retail Federation (NRF) filed a friend-of-the-court brief in support of the Justice Department motion that the full Second Circuit Court of Appeals hear its case against American Express. The government maintains American Express is still blocking retailers from suggesting customers use a different card, in violation of the law.
Now, the NRF has sent a letter to Visa, asking that it stop using new EMV terminals to steer debit card transactions to its own processing network, which NRF says is more expensive for retailers to use.
In a letter to Visa CEO Charles W. Scharf, NRF points out the Federal Reserve has said Visa's action run counter to the law.
More expensive choice
NRF complains that many credit/debit card readers installed since the card industry began implementing new EMV chip card technology present debit card users with a screen that asks them to choose between "Visa Debit" and "U.S. Debit."
Though they don't know it, when consumers choose Visa Debit, their transaction is routed over Visa's more expensive network. Instead of a PIN, the consumer is usually required to use only a signature to approve the transaction.
On the other hand, when a consumer chooses the U.S. Debit option, NRF says the transaction goes over the retailer's choice from about a dozen competing networks that charge merchants less but provide more protection by allowing the use of a secret, secure PIN.
"Visa charges more and offers less security while the competition charges less and does a better job of keeping consumers' debit cards safe," NRF Senior Vice President and General Counsel Mallory Duncan wrote.
Retailers say they should choose
Duncan says retailers should be allowed to choose the processor that provides the best value and offers their customers the best protection. He says that's what the law requires.
Why should consumers care? NRF says when costs rise for retailers, those costs get passed along to consumers in the form of higher prices.
NRF claims Visa is steering transactions toward the Visa network, and that the higher fees charged by Visa must be built into the cost of merchandise, ultimately contributing to higher prices paid by consumers.

The organization says the Fed ruled in early November that Visa's actions violate a 2010 debit card reform law that says retailers must be allowed to choose between at least two unaffiliated networks to process debit transactions.
---