---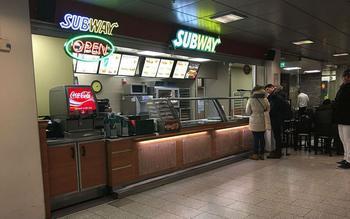 Subway remains the champ of sandwich shop brands while there's a new contender in the fast casual Mexican category.
The annual Harris Poll of consumers about their fast and fast-casual restaurant preferences shows which brands are resonating. For a sixth straight year, Subway was declared the top sandwich shop brand.
"Year after year, Subway has proven that it has equity staying power," said Lisa Recoussine, vice president, client solutions at Nielsen, which owns The Harris Poll.
Recoussine said Subway is benefiting from getting ahead of the fitness curve and being one of the first chains to use a celebrity fitness tie-in with The Biggest Loser.
Moe's Southwest Grill
In the fast casual Mexican category, Moe's Southwest Grill was the consumer favorite, edging out Chipotle Mexican Grill, which struggled last year with food safety issues.
"In Moe's case, the restaurant's aggressive expansion and growth, combined with their focus on fresh, likely factored into their equity rise," Recoussine said.
Pizza Hut was the top choice among pizza restaurants, In-And-Out Burger claimed burger restaurant honors, and Chick-Fil-A was named best chicken restaurant.
Subway and Chick-Fil-A also made strong showings in another consumer ranking last month. The two restaurant chains took top honors in the 2016 Temkin Experience Ratings, an annual ranking of companies based on a survey of 10,000 U.S. consumers.
The Harris Poll found consumers favoring IHOP as the top casual dining restaurant and Olive Garden as the best Italian restaurant brand.
Extremely loyal customers
Recoussine said what all the winners have in common is renewed emphasis on freshness and a core of die-hard, extremely loyal customers who are nearly obsessed with the brands.
"Brands who recognize and acknowledge these fans will remain relevant and stay top of mind with consumers' active brand consideration set, meaning not only do these brands have high familiarity and quality ratings, but they are able to breakthrough and drive consumer behavior," Recoussine said.
Chipotle has its share of obsessed fans but didn't make the list. While it remains to be seen whether the restaurant's well-publicized difficulties last year put a dent in consumer enthusiasm, Wall Street appears to have lost that loving feeling.
Barron's reported this week that same store sales for May are expected to disappoint and the stock has suffered sharp declines. The company's stock is down nearly 9% since midweek.
---