---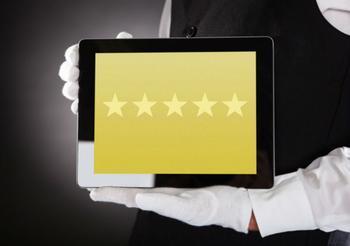 How do you choose a restaurant or hotel? Many of us rely on our prior experience or those of friends and family; if a restaurant or hotel met expectations before, shouldn't they again?
Even so, it still pays to check out every restaurant and hotel, as ownership and management changes can impact quality and service. That's what happened to me when booking a dinner reservation at a five-star restaurant where I had had wonderful dining experiences. I was surprised that the quality was no longer the same and learned belatedly that the restaurant had changed hands.
Since that experience, I do a better job in evaluating and choosing restaurants and hotels. Even so, I recently dined at a restaurant that did not live up to its reviews. The restaurant was ranked No. 1 out of 141 restaurants with over 200 reviews. It was also on a list of five recommended restaurants by our tour guide.
The "best hamburger in town" was so-so and the "amazing fries" were so over-salted I couldn't eat them. When we received our check it arrived with five of the most professionally produced business cards citing all the social media and review sites and a request to "like" the restaurant. Clearly, this restaurant had loyal fans, but No. 1? Not in my book.
How to check for reviews
A good place to start is the restaurant and hotel website. Look at photos, peruse menus, assess their online reviews, and then search several of the websites that rank and review restaurants and hotels. Here are three credible websites to use; all include reviews, contact information, and websites.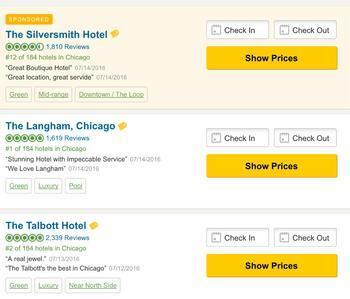 TripAdvisor
TripAdvisor, an online site and an app, boasts over 200 million unbiased traveler reviews. It allows you to search for restaurants and hotels by location or use the "near me" function, ranking the top restaurants and hotels as well as those who achieve a "Certificate of Excellence," a citation from TripAdvisor for accommodations, attractions, and restaurants that consistently earn great reviews from travelers.
You can make reservations for restaurants that use OpenTable and book hotel rooms in partnership with Bookings.com. Both OpenTable and Bookings.com are owned by Priceline.com.
OpenTable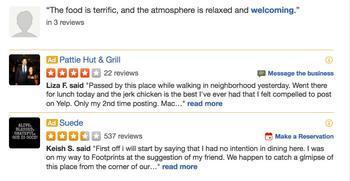 OpenTable, an online site and an app, enables users to book reservations at over 31,000 restaurants worldwide (not every restaurant uses OpenTable). The site posts reviews from diners, and its website states that it gets 750,000 restaurant reviews each month.
To search, just add the date, a time, and a location, restaurant, or cuisine. You'll generate a list of possible restaurants; anything appealing, just click on the reviews and start reading. Restaurant information and menus are accessible.
Yelp
Yelp, an online site and app, is a review site for all local businesses, including restaurants. It draws a monthly average of over 90 million unique visitors for the online site and the app with "yelpers" (Yelp users) writing over 102 million reviews.
Just indicate what you would like the site to find (restaurant, bar, coffee, type of food, or hotel) and what it is near and start searching. The site allows a number of filters, such as price, Wi-Fi, outdoor seating, and open now, to help narrow your restaurant search. You can make restaurant reservations.
It's very easy to get hung up and lost reading online reviews. And, who do you believe? Realize that no restaurant or hotel can please everyone and some reviewers consistently find fault. You'll need to weed through the commentary and ultimately, make your own informed decision.   
---