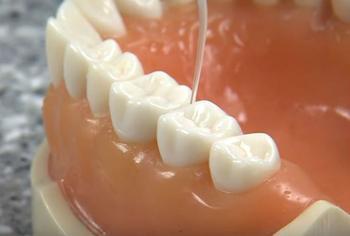 For approximately 30 to 40 million Americans, the mere thought of a trip to the dentist triggers anxiety. And an even greater sense of fear may transpire if a dental appointment involves a drill.
But good news may be on the horizon for individuals who would rather not see a drill brought into the cavity-filling equation. Clinical trials are underway at the University of Alabama at Birmingham to treat cavities with resin.
The less painful treatment option is called resin infiltration, and researchers say it may soon be available to patients with small cavities in between teeth.
Filling these types of cavities normally requires the use of a numbing shot and drill, but resin infiltration would eliminate the need to chip away at a tooth in order to access the decay. Instead, dentists could simply slide a plastic perforated sheet between the teeth with the cavities.
Potential game-changer
"When we develop cavities between teeth, sometimes we have to go through the tooth, and we end up damaging healthy tooth structure," said Dr. Augusto Robles, assistant professor and director of Operative Dentistry Curriculum. "This new system allows us to skip the drilling and helps us preserve that structure."
Once the tooth is filled with the liquid resin, a dental curing light is applied to the tooth to cure the resin. Since there is no drilling necessary for the procedure, it could be completed without anesthesia.
"Since this is a no-shot and no-drill treatment, it is popular with patients," said Nathaniel Lawson from the school of dentistry director of biomaterials. "And since no tooth is removed, it is a very conservative procedure."
Interproximal cavities only
The drill-free procedure could be a game-changer for the future of dentistry, the researchers said. "In my 24 years of practicing, this changes everything we've done so far. It's marvelous," said Robles.
But there are a few caveats. The new, FDA-approved treatment option would only be available to people with cavities in between teeth (commonly referred to as interproximal cavities) and on smooth surfaces where cavities are small.
Resin infiltration would not work for large cavities or cavities on top of teeth because the liquid resin "has to be able to be absorbed into the cavities in between teeth," explained Robles.
The product is commercially available in Germany, but is mostly being used in clinical trials in the U.S. The University of Alabama at Birmingham is currently conducting the largest clinical trial of the product with 150 patients enrolled in the study.