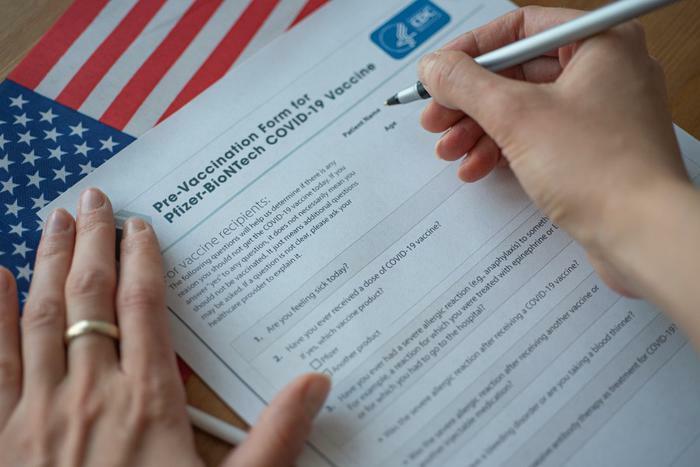 Researchers on Wednesday urged delaying the second dose of Pfizer's COVID-19 vaccine, citing data suggesting the first dose is highly protective against the virus. 
In a letter published in the New England Journal of Medicine, Canada-based researchers Danuta Skowronski and Gaston De Serres said the drugmaker's vaccine was 92.6 percent effective after just the first dose. 
The researchers, who drew the finding from an analysis of documents submitted by Pfizer to the U.S. Food and Drug Administration (FDA), said delaying the second dose could help stretch the vaccine supply and ensure that high-priority groups get at least one dose as soon as possible. 
"With such a highly protective first dose, the benefits derived from a scarce supply of vaccine could be maximized by deferring second doses until all priority group members are offered at least one dose," the authors said. 
Pfizer says interval testing needed
Skowronski and De Serres added that there "may be uncertainty about the duration of protection with a single dose," but it's clear that having people get a second dose within a month after the first "provides little added benefit in the short term." 
"Given the current vaccine shortage, postponement of the second dose is a matter of national security that, if ignored, will certainly result in thousands of Covid-19–related hospitalizations and deaths this winter in the United States — hospitalizations and deaths that would have been prevented with a first dose of vaccine," the researchers said. 
Pfizer, in response to the letter, said that alternative dosing schedules haven't been evaluated yet. The company said that it's ultimately up to health authorities to decide whether to change the guidance. 
"We at Pfizer believe that it is critical for health authorities to conduct surveillance on implemented alternative dosing schedules to ensure that vaccines provide the maximum possible protection," the company said.
Currently, the second dose of Pfizer's COVID-19 vaccine is authorized to be administered 21 days after the first shot.