---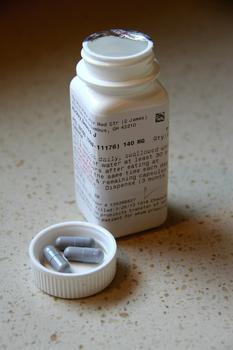 A new form of leukemia treatment may be available in the future, according to two recent studies published in the New England Journal of Medicine.
Researchers at the Ohio State University Comprehensive Cancer Center (OSUCCC) say a recently tested drug called ibrutinib could be an effective form of treatment for adults with either chronic lymphocytic leukemia (CLL) or mantle cell lymphoma (MCL).
Two-phase testing
Researchers came to this conclusion after examining the drug in two phases of testing and saw that 71% of patients had a response to it. After ibrutinib was taken for 26 months, there was no progression of the disease in 75% of the patients who had CLL. And the overall survival rate for these patients was 83%.
The researchers said ibrutinib could be an effective and safe alternative to chemotherapy.
"Essentially all CLL patients respond well to ibrutinib, which lacks many of the side effects of chemotherapy and frequently produces long-lasting remissions, even in patients with high-risk genetic lesions," said John C. Byrd, one of the study's co-authors and director of the division of hematology at OSUCCC.
In addition, Byrd said patients taking ibrutinib could be free of CLL in two years' time.
"Approximately 75% of people of all types of relapse CLL will be disease-free at two years," he said.
According to the Leukemia Research Foundation, there have been 126,340 new cases of leukemia in 2012 and 43,670 people have died from the disease, which is why places like OSUCCC have been researching alternative treatments so vigorously.
Attack of the T cells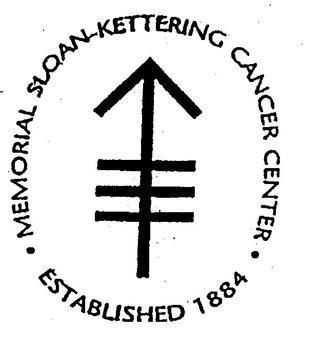 Another place that's been busy in the fight against cancer is Memorial Sloan-Kettering Cancer Center in New York, where researchers have been testing a new leukemia treatment for quite some time.
The Sloan-Kettering scientists gathered five adult patients, all with lymphoblastic leukemia, and removed each patient's T cells. From there, scientists modified those T cells so they would be able to attack other cells that are tumorous.
Isabelle Riviere, director of Memorial Sloan-Kettering's Cell Therapy and Cell Engineering Facility, said more and more scientists are beginning to take another look at cell therapy as an effective cancer treatment.
"We are at a critical time when a number of cell therapies are starting to demonstrate some therapeutic benefits," said Riviere in an interview posted on the Sloan-Kettering website.
"There are still a number of hurdles to overcome from the processing and manufacturing point of view, but we are now at a stage where the scientific and medical communities believe it's worthwhile to move forward and test these new treatments."
Effective treatment
Back in Ohio, the OSUCCC researchers found that ibrutinib could be an effective treatment for Mantle Cell Lymphoma, as 68% of the patients who took the drug had a response to it.
In addition, 47% had partial response to the drug and the survival rate was 58% after 18 months.
Kristie Blum, MD, who leads OSUCCC's James lymphoma program, says patients responded better to ibrutinib compared to a lot of other treatments.
"This is remarkable because the last agent approved by the Food and Drug Administration for MCL had a 30% response rate," she said. "This trial suggests that ibrutinib could significantly improve the landscape of therapy options for MCL."
In addition, researchers say that ibrutinib could be a good alternative to chemotherapy since the side-effects are a lot milder.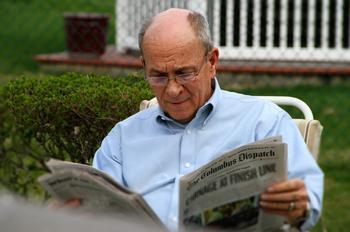 CLL survivor Dennis Hickey agrees. He's been taking ibrutinib three times a day and says it's far better than going through chemotherapy.
"[Chemotherapy] would work for about six months. It would shrink the tumor," he said.
But it would also put Hickey's body through some very harsh changes. "To make a long story short, I was a mess," he recalled.
And a decade after he was diagnosed with CLL, Hickey has been cancer free since taking ibrutinib, and he says he couldn't be happier.
"Ten years later I sit here before you truly blessed," he said.
---