---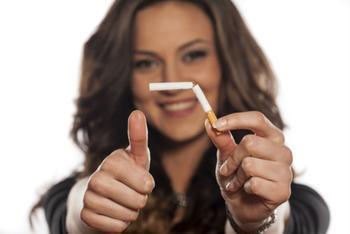 Working up the initiative to quit a habit like smoking can be difficult, and symptoms of withdrawal can make it hard to stay committed. That's why many smokers turn to smoking cessation tools to give them an extra edge.
While picking between the different treatments can be hit or miss, a new study suggests that one particular method works best – at least for women. Researchers say that varenicline, a product produced by Pfizer and sold as Chantix, had the best results when they tested various smoking cessation tools. Its effectiveness for men was less certain, though.
"Before our study, research had shown that among the choices for medications for smokers who wanted to quit, varenicline was the clear winner when it came to promoting quitting. Our study shows this is clearly the case for women. The story seems less clear among men, who showed less of a difference when taking any of the three medications," said Philip Smith, leader of the study.
Better outcomes
Those three medications that were tested included varenicline, the nicotine patch, and bupropion, which is made by GlaxoSmithKline and sold as Wellbutrin and Zyban.
In order to come to their conclusions, researchers analyzed data on over 14,000 smokers who had taken part in 28 clinical trials. Each trial had smokers test one of the three methods to see how effective it was as a smoking cessation tool.
After receiving the results, the researchers found that women were much more likely to quit if they took varenicline. Men, on the other hand, showed no particular affinity for one product over another. Additionally, the researchers found that all three cessation methods performed better than groups who took a placebo.
While the researchers may have found that varenicline is the best product for helping consumers to quit smoking, be sure to check with your doctor before using it. The drug does have side effects that should be carefully considered.
The full study has been published in the journal Nicotine and Tobacco Research. 
---