---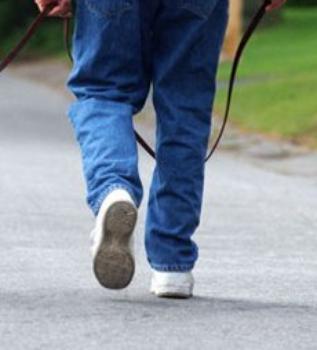 For those who are watching their weight, the next few days will be critical. The end of the year holidays, from Christmas to New Years, bring dinners, parties and lots of sweets. One way to protect yourself is to resist reaching for that cookie -- and your car keys.
When you are adding extra calories to your body, it just makes sense that you need to do more to burn them. Unless you are going to make extra trips to the gym or spend more time on the treadmill, you might consider driving less and walking more.
Sheldon Jacobson is a University orf Illinois computer science professor who has studied the link between automobiles and body weight. He suggests that both daily automobile travel and calories consumed are related and reducing either one, even by a small amount, correlates with a reduction in body mass index (BMI).
Small changes
"We're saying that making small changes in travel or diet choices may lead to comparable obesity reduction, which implies that travel-based interventions may be as effective as dietary interventions," said graduate student Banafsheh Behzad, a co-author of the study, published in the journal Preventive Medicine.
The goal isn't just to walk more. Walking is good, make no mistake. But the object, according to the researchers, is to just spend less time in the car.
"Any time a person sits behind the wheel of a car, it's one of the most docile activities they can do in a day," Jacobson said. "The automobile is the quickest mode of transportation we have. But a consequence of this need for speed in getting things done may be the obesity epidemic."
According to Jacobson, obesity is really just a math problem. Maintaining body weight essentially is a result of energy consumed and energy expended.
Other studies tend to look at the two issues individually, or at a local or individual level, but Jacobson's group wanted to look at both sides of the equation through a national lens. They decided to use driving as a proxy for physical activity.
They created a model that took into account national average BMI, caloric intake and driving habits. They discovered that if all adults in the United States drove one mile less per day, the model predicted an associated decrease in the national average BMI -- though very slight -- after six years.
Moving more
"One mile is really not much," Behzad said. "If they would just consider even taking the bus, walking the distance to the bus stop could have an impact like eating 100 calories less per day. The main thing is paying attention to caloric intake and moving more, together, can help reduce BMI."
That's fine, of course, for people who live in urban areas and have access to public transportation. But people in rural areas sometimes don't have that kind of access. It might help explain why, year after year, the highest obesity rates in the nation are usually found in rural states like Mississippi and West Virginia.
The 2012 state-by-state obesity ranking by the Trust for America's Health(TFAH) and the Robert Wood Johnson Foundation (RWJF) found that 12 states had obesity rates of 30 percent or more -- the same number as last year. Twenty-six of the 30 states with the highest obesity rates are in the Midwest and South.
But for people not in rural areas, who are able to use mass transit, or better yet, walk to the post office or drug store, Jacobson insists it can be a practical way to help control weight.

"The most important thing for people to learn from this study is that they have a choice," Jacobson said. "One has to be just as careful about when you choose to drive as when you choose to eat. These small changes in our driving and dietary habits can lead to long-term significant changes in obesity issues. Those are the kind of changes we advocate."

And Jacobson says even a modest decrease in BMI, like that predicted by the model, could represent significant cost savings. If drivers nationwide traveled one mile less by car each day, not only would fuel consumption fall, but annual health care costs could drop by billions of dollars as fewer people would be classified as obese or overweight.
---