---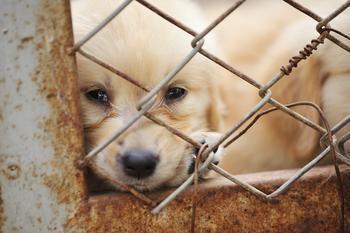 A puppy mill breeds dogs for sale in crowded, unsanitary conditions, often resulting in sick animals that die shortly after they are purchased. But because they traditionally marketed within a tight geographic region, they were kept at line by regulators in at least some states.
But the Internet has changed all that. Today, puppies might be bred in South Dakota and sold in New York.
The International Fund for Animal Welfare (IFAW) spent just one day looking online for puppy mills. In a report entitled "How Much is that Doggie on my Browser?" the group says it found 12,000 advertisements representing a total of over half a million puppies for sale on nine major buyer-seller websites.
Six of these sites are dedicated primarily to the puppy market and three offer puppies along with a variety of other commodities.
Likely puppy mills
Using criteria drawn up by a panel of experts, investigators isolated the nearly 10,000 ads from the six puppy-specific Websites and found that 62 percent of them qualified as "likely puppy mills."
"Consumers opting to purchase puppies over the Internet are duped into believing they are buying from reputable breeders," said actor and writer Ben Stein, Honorary Member, IFAW Board of Directors. "The cute puppy images shown on many seller Websites hide the heartbreaking reality of the overcrowded and unsanitary conditions in which the dogs are housed."
Because it doesn't have the kind of regulation assigned to some brick-and-mortar outlets, the Internet has become a preferred platform for unscrupulous commercial facilities to sell puppies directly to consumers who are unwittingly supporting the puppy mill industry.

Consumer experiences
Several consumers posting to ConsumerAffairs have complained about the puppies they purchased online at PuppyFind.com. But Joy, of Fairview, Ill., writes that she has purchased puppies through the site and has had good experiences. But she says the consumer has to be careful.
"I check all the breeder's listings," Joy writes. "If I see 50 different breeds listed, I know it is a scam. I look for a breeder who has only one breed of puppy offered to be sure it is not a puppy mill. I contact the breeder and ask questions about their puppies, the parents, etc. I ask for pictures that show a progression of growth for the puppy and I look for markings that are the same. It is a fact of life that there are swindlers out there and not just a few who scam with puppies. Every buyer needs to be diligent about ensuring that the puppy actually exists, and that the breeder is ethical."
Joy may be correct but not every consumer is as thorough as she, and the IFAW report maintains the Internet has created new problems that the industry has yet to address.
Pre-Internet regulations
"Most federal regulations designed to address the puppy trade pre-date the Internet and are insufficient in addressing the specific issues relating to online puppy sales," said Tracy Coppola, IFAW Campaigns Officer. "We launched our investigation to determine the scope and scale of the trade in an effort to better inform decision-makers as they are currently considering new policies to eliminate loopholes allowing this practice to continue."
The report also recommends that websites strengthen efforts to shut down puppy mill advertisements.
According to a recent survey from the American Pet Products Association, the number of dogs living in U.S. homes is at an all-time high -- more than 78 million and growing. That's a lot of dogs and if even a small percentage of them are bred in substandard conditions, it translates to a lot of unnecessary suffering.
"As America's demand for pet dogs grows, so does the number of online puppy sales," added Jeff Flocken, DC Office Director, IFAW.  "This holiday season and beyond, we hope that consumers looking to add a new puppy to their family will not fall victim to the deceptive practices of puppy mill operators over the Internet.  Instead, they should proactively take a stand against puppy mills by always adopting from local shelters, responsible local breeders and rescue facilities."
The exploitation of animals over the Internet is not limited to dogs and other domestic animals, the organization said  Since 2004, IFAW has performed numerous investigations on Internet wildlife trade; and its investigative report, "Killing with Keystrokes," convinced eBay to institute a global ban on the sale of ivory products from its website.
Thanks
Keep an eye on your inbox, the lastest consumer news is on it's way!
Unsubscribe easily whenever you want
---