---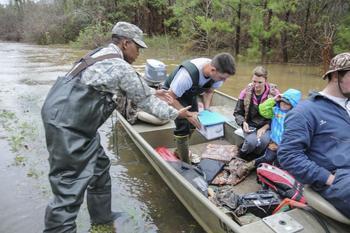 For many, it produced flashbacks to Hurricane Katrina almost 11 years ago. Cars mostly submerged on city streets. People standing on roof tops waiting to be rescued.
Massive rains in southeast Louisiana have sent rivers over their banks, flooding wide areas of the state, with the death toll at 11 so far.
"The current flooding in Louisiana is the worst natural disaster to strike the United States since Superstorm Sandy," said Brad Kieserman, vice president, Disaster Services Operations and Logistics for the Red Cross. "The Red Cross is mounting a massive relief operation, which we anticipate will cost at least $30 million and that number may grow as we learn more about the scope and magnitude of the devastation."
How to donate
The Red Cross has set up a special online portal where consumers can make a donation. Those who want to help should donate to well known, reputable organizations and not respond to telemarketer or email solicitations from groups you've never heard of. In nearly all cases, those are scams.
This time, New Orleans has been spared the worst of the flooding. Mayor Mitch Landrieu has set up the NOLA Pay It Forward Fund, asking the city's residents to make donations to help those displaced by the flood waters.
"Within the past several days, approximately 20,000 people have been rescued from their homes due to swollen rivers from record-breaking rainfall," Landrieu said. "Proceeds from this fund will support nonprofit organizations working tirelessly in the affected areas to provide assistance and care for residents with emergency needs."
GoFundMe campaigns
On Tuesday GoFundMe reported that more than 2000 GoFundMe campaigns to help Louisiana had been established and had initially raised over $1.2 million. Louisiana Attorney General Jeff Landy said that, while he is gratified by the response, he is working with GoFundMe to make sure all the donations go to help flood victims.
Retail businesses have also responded. U-Haul of Northern Louisiana has offered 30 days of free self-storage and U-Box container usage to people in Lafayette, La., one of the hardest hit areas. Lowes has announced it is donating $500,000 to the American Red Cross Louisiana relief effort.
The recovery costs are likely to be massive, and the economic tragedy for many homeowners is that their losses will not be covered by their homeowners insurance. Unless there is a separate flood insurance policy, most homeowner policies do not cover damage caused by flooding.
---