---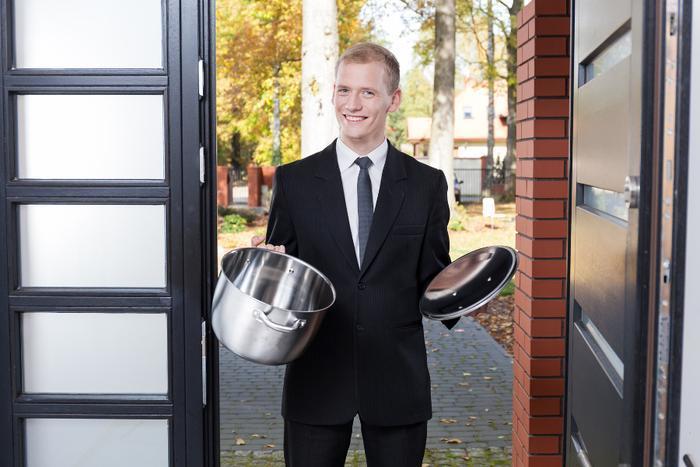 The New Year will bring about some changes to the Federal Trade Commission's "Cooling-off Rule" — though the average consumer who buys things from door-to-door salespeople is unlikely to notice much difference.
The Cooling-Off Rule dates back to 1972. The FTC's website explains the Cooling-Off Rule like this:
If you buy something at a store and later change your mind, you may not be able to return the merchandise. But if you buy an item in your home or at a location that is not the seller's permanent place of business, you may have the option. The Federal Trade Commission's (FTC's) Cooling-Off Rule gives you three days to cancel purchases of $25 or more. Under the Cooling-Off Rule, your right to cancel for a full refund extends until midnight of the third business day after the sale.

The Cooling-Off Rule applies to sales at the buyer's home, workplace or dormitory, or at facilities rented by the seller on a temporary or short-term basis, such as hotel or motel rooms, convention centers, fairgrounds and restaurants. The Cooling-Off Rule applies even when you invite the salesperson to make a presentation in your home.
There are some exceptions to the Cooling-Off Rule – among other things, it does not apply to purchases of real estate, securities or certain other investment options, nor to purchases made at craft fairs and similar locations – but for the most part, the rule is supposed to provide a level of protection for customers against aggressive, high-pressure door-to-door salespeople. (And in all seriousness: if you are in the market to buy some real estate or securities, you really shouldn't be buying these from door-to-door salespeople anyway.)
Changes made
This week, the FTC announced in the Federal Register that, starting in March, there would be some changes made to the Cooling-Off Rule. For traveling salespeople who peddle their wares outside people's workplaces or other non-home locations, the limit has been raised to $130, before the Cooling-Off Rule applies. However, $25 remains the limit for purchases made in people's homes, where people are off-guard and thus arguably more vulnerable to high-pressure tactics..
As the FTC wrote in its rationale for the rule: "Some consumers feel pressured to enter into contracts with door-to-door salesmen solely to get the salesmen to leave their homes."
Indeed, ConsumerAffairs often hears from readers who have done exactly that. For example, Marie from Fort Dodge, Iowa, wrote us on Dec. 19 to complain about pushy salesmen hawking Kirby Vacuum Cleaners:
"When they came to the door I was in the market for a new vacuum, so I was willing to listen. Three hours later I finally bought it just to get rid of them - I was exhausted."
But did she at least get a decent vacuum cleaner out of the exhausting afternoon? No. "The vacuum is way too heavy. I bought an Oreck canister to do the stairs (love that). I like the suction, but the belt breaks easily. Too complicated to use the other attachments. ... To be honest I have made some bad purchases, but this tops them all. I hate this vacuum. Any one want one cheap?"
Although the Cooling-Off Rule should apply to anyone who buys a Kirby Vacuum from a door-to-door seller, remember that it only applies if you cancel your order before midnight on the third day after you bought it. Unfortunately, Sieg from Owatonna, Minnesota, didn't do that. Here's what he said:
I had a Dyson, with all the attachments, which I loved!! I had a Bissell shampooer, which was wonderful!! And I had another vacuum. I live in a mobile home with very little carpet area. This friggin salesman talked me into buying a new very expensive vacuum and giving him all my other items to boot! By the weekend, I had realized what I had done and I called to cancel the order. Well, they refused to cancel it cause it had been like 4 days.
Setting up shop
Tim, from Springfield, Oregon, was luckier than Sieg or Marie: the Kirby salespeople still ate up three hours of his time, but he stood his ground and avoided wasting money on a vacuum. He wrote on Dec. 16: "Just like everyone else, they offered to clean a portion of my carpet for free to get their name out there for their company. I thought it was going to be a short deal."
Not even close. "They left a young kid and he started setting up shop in my living room while the boss left an hour and two hours later he showed back up and started the high-pressure sales. My girlfriend and my baby is due this week and they took three hours of our evening, guilting us about how our house is filthy and how we shouldn't live in this filth with her new baby coming this week. Everything they say is a lie. They will guilt you and try to manipulate you into purchasing one of their overpriced vacuums! Thankfully we didn't!"
If you see a Kirby vacuum salesman, Tim advises you to "never ever let them in your house!"
Sieg from Minnesota agrees: "I can't tell you how upset I am, and want to warn everyone, if a Kirby salesman comes to your door, slam it closed!"
And Dominique from Aurora, Colorado told us something similar just yesterday. "Slam the door as soon as they say they're selling a Kirby!!! Wishing I had."
Rude, pushy or even insulting salespeople who overstay their welcome is a very common theme among Kirby complainants. Patty from Missouri said on Dec. 20: "High pressure salesman and I was exhausted when they left! I had my 2 year old grandson with me and it was way past his bedtime! They just wouldn't leave!"
If you're in the market for a new vacuum cleaner, remember: in modern America there's no need to wait for a salesman to knock on your door peddling one. Do a little research to determine not only which brand of vacuum you want, but which store in your area offers the best price. There's no need to pay extra for the dubious extra service of having multiple salespeople come out to your house and give a three-hour live performance demonstrating how much their vacuum sucks.
---