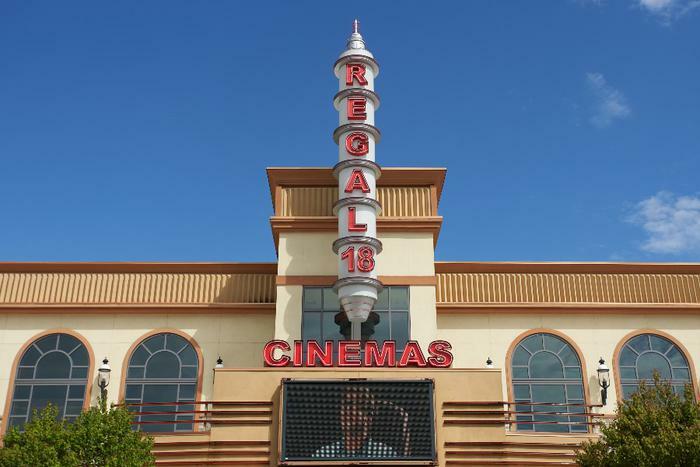 Following an extended period of being closed to the public due to the pandemic, Regal Cinemas has announced that it will reopen around 500 of its U.S. locations on April 2. 
"Regal is thrilled to welcome our guests back to the movies in April," Regal wrote on Twitter. "Select theatres will be opening April 2, in time for 'Godzilla vs. Kong.' Additional theatres will be opening in the weeks to follow."
The movie theater chain said it will have a number of health and safety measures in place to prevent the spread of COVID-19, such as limiting attendance to between 25 percent and 50 percent. Some other changes that the company said it will implement include:
Operating at limited capacity and requiring guests to wear masks;

Increasing fresh air intake by 50 percent to 100 percent to help air circulate throughout auditoriums;

Leaving two seats between parties in theaters to help with social distancing; 

Changing concession stand procedures to include reduced menu offerings and social distancing between registers; and 

Allowing guests to make food and drink purchases via the Regal app.
Welcoming moviegoers back
Regal, which is owned by Cineworld, made the decision to shutter its theaters six months ago as COVID-19 restrictions went into effect. But with many businesses reopening, the chain says it's ready to fulfill its vital role in communities across the U.S.
"We have long-awaited this moment when we can welcome audiences back to our Regal theatres and restore our essential role within the communities we serve," said Mooky Greidinger, Chief Executive Officer of Cineworld. 
"With the health and safety of our customers, staff, and communities as our top priority, we continue to take all the necessary precautions and abide by our CinemaSafe guidelines to confidently provide a safe and comfortable experience. With capacity restrictions expanding to 50% or more across most U.S. states, we will be able to operate profitably in our biggest markets."