---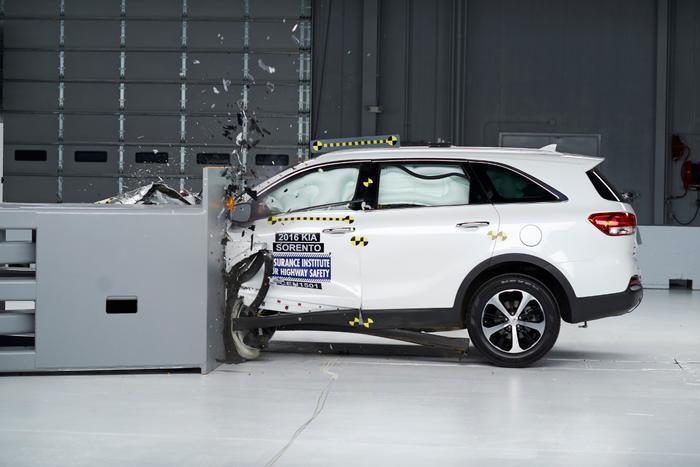 The 2016 Kia Sorento got a makeover that paid off in terms of its ratings with the Insurance Institute for Highway Safety (IIHS).
A redesign of has taken the midsize SUV's small overlap front rating from poor to good, earning it a TOP SAFETY PICK award.
In the small overlap crash test, the driver space of the new Sorento was maintained well, with maximum intrusion of less than 4 inches at the footrest, according to IIHS. The dummy's movement was well-controlled, and the front and side curtain airbags worked well together to keep the head away from any stiff structure or outside objects. Measures taken from the dummy indicate a low risk of any significant injuries in a crash of this severity.
Big improvement
It's a marked improvement from the previous generation Sorento. In the test of the 2014 model, the driver's space was seriously compromised, with intrusion measuring as much as 11 inches at the parking brake pedal. The side curtain airbag didn't deploy, and the dummy's head barely contacted the front airbag before sliding off the left side, as the steering column moved to the right. Measures from the dummy indicated a high likelihood of injuries to the left lower leg and possible injuries to the left thigh and knee in a crash of this severity.
The small overlap test, which was introduced in 2012, replicates what happens when the front corner of a vehicle collides with another vehicle or an object such as a tree or a utility pole.
Like the previous generation, the 2016 Sorento earns good ratings in the IIHS moderate overlap front, side, roof strength and head restraint tests. The across-the-board good ratings mean the Sorento qualifies for 2015 TOP SAFETY PICK.
The award is given to vehicles that earn a good or acceptable small overlap rating and good ratings in the other four crashworthiness tests.
The Sorento is available with optional forward collision warning, earning it a basic rating for front crash prevention.
---