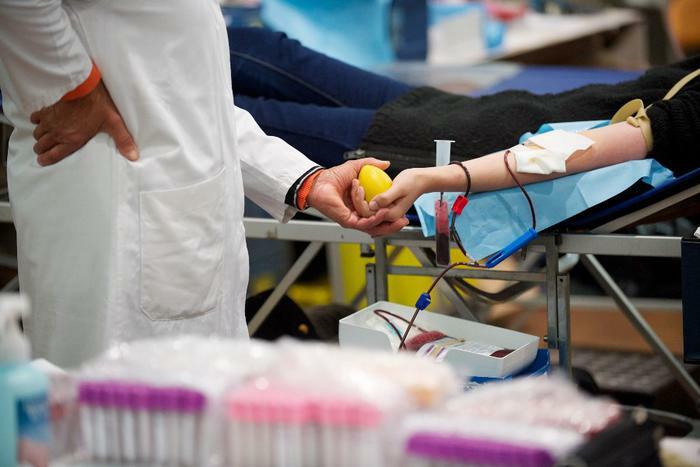 The American Red Cross is warning that an "atypically high" number of trauma cases and trips to hospital emergency rooms has resulted in a severe blood shortage across the U.S. 
In a statement, the organization said that demand for blood from trauma centers has risen by 10% in 2021 compared to 2019. 
"What we're experiencing at the American Red Cross in our effort to provide blood nationally is a severe shortage of unprecedented levels," Pampee Young, the Red Cross's chief medical officer of biomedical services, said Wednesday. "We did not anticipate that it would be at this level."
The latest shortage is partly due to the fact that donation drives didn't take place as often last year because of the pandemic, and people haven't turned out to donate as often in recent months. Experts say that may be because more people are going on vacations and traveling after being vaccinated against the coronavirus.
But now that pandemic restrictions are lifting, many people are booking the elective surgeries they put off last year. In other cases, people postponed care during the pandemic and have now begun experiencing more advanced disease progression. This has resulted in an increase in demand for transfusions.
"During the pandemic, many people postponed their elective surgeries. So hospitals are playing catch up with many of these surgeries," Young said. "Some of the patients who postponed are presenting now with more advanced disease and often times requiring more transfusions."
Donate now
The organization is requesting that donors -- especially those with the blood Type O-negative -- make an appointment to give blood as soon as possible. 
"I encourage people to think about the blood supply and all the people that need blood, whether it's a trauma victim, a cancer victim, a mom who just gave birth, a sickle cell patient," said Robert Purvis, executive vice president at New York Blood Center, a nonprofit blood collection and distribution organization. "Your donation can make an incredible difference, it really can save a life."
To make an appointment to donate blood or platelets, you can visit redcrossblood.org, call 1-800-RED-CROSS (1-800-733-2767), or use the Red Cross Blood Donor App.