---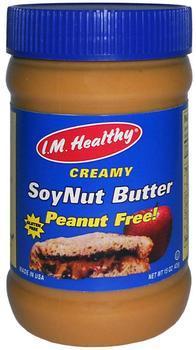 Earlier this week, the SoyNut Butter Co. recalled its I.M. Healthy brand of soynut butter, saying it might be contaminated with E. coli. But the recall came too late for an eight-year-old California boy and others, a lawsuit charges. 
Federal officials currently put the number of affected people at 16 in nine states. 
Mosby and Erin Simmons of Santa Clara, California, say their son ate the soynut butter for several days before he began suffering abdominal pains. He was hospitalized and developed hemolytic uremic syndrome, a life-threatening form of kidney failure, the suit alleges, according to Courthouse News Service. 
Officials from the Centers for Disease Control and Prevention and the Food and Drug Administration interviewed nine of the 12 victims and discovered they had consumed the soynut butter at home and in childcare facilities.
"The epidemiologic evidence available to investigators at this time indicates that I.M. Healthy SoyNut Butter is a likely source of the outbreak," health officials said in a statement.
On March 2, the FDA and CDC held a call with the owners of the SoyNut Butter Company to advise the firm about the multistate outbreak linked to their SoyNut Butter products, the FDA said. 
Avoid all products
CDC recommends that consumers not eat, and childcare centers and other institutions not serve, any variety or size of I.M. Healthy SoyNut Butter or I.M. Healthy granola produced by SoyNut Butter Company. The CDC also urges consumers to check their pantry for SoyNut Butter products.
The symptoms of Shiga toxin-producing E. coli infections vary for each person but often include severe stomach cramps and bloody diarrhea. If there is fever, it is usually not very high (less than 101 degrees Fahrenheit). Most people get better within 5–7 days. Some infections are very mild, but others are severe or even life-threatening
Children under the age of 10 and the elderly are more likely than others to develop severe illness, including HUS, but even healthy older children and young adults can become seriously ill.
According to the CDC, as of March 7, a total of 16 victims had been identified in nine states: Arizona, (4), California (4), Maryland (1), Missouri (1), New Jersey (1), and Oregon (2) Virginia (1), Washington (1), and Wisconsin (1). Eight ill people have been hospitalized and five people developed hemolytic uremic syndrome (HUS). Fourteen of the 16 illnesses were reported in children under the age of 18. No deaths have been reported.
---