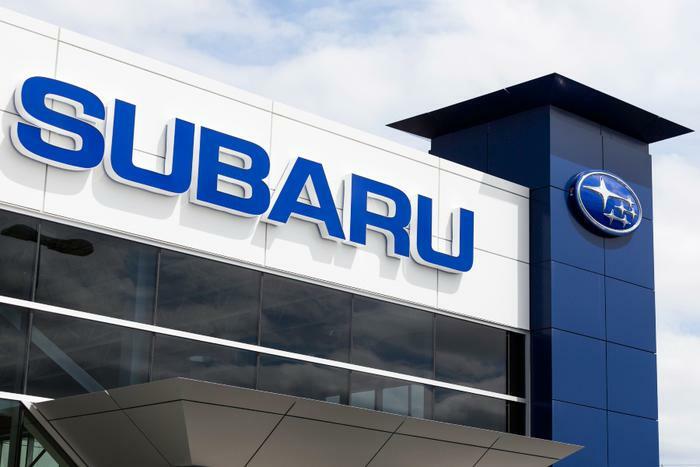 Imagine walking into work one day only to find out that you're the one person that your national company is blaming for a safety issue. Well, there's at least one employee at Subaru who doesn't have to imagine it. 
Subaru of America has announced that it is recalling nearly 400 of its 2021 Outbacks and Imprezas because of a loose nut that could cause the gear selector on affected vehicles to not function properly, increasing the risk of a crash. 
So how does that one employee come into play? In a defect notice report sent to the National Highway Traffic Safety Administration (NHTSA), Subaru stated that a "single associate assigned to a specific production line working between the production dates specified (12/14/2020 - 12/21/2020) was found to be using an improper torque wrench technique."
The company says it will be notifying owners and dealers so that owners of affected vehicles can have the nut tightened free of charge. The recall is set to begin on February 19. 
Tesla recalls over 130,000 cars with touchscreen issues
Tesla announced this week that it would comply with an NHTSA request to recall 134,951 Model S and Model X vehicles that have an issue with the touchscreen display. 
The notice states that the faulty displays can cause drivers to lose access to the rearview camera display, defrost/defog control settings, and exterior turn signal lighting -- all of which can reduce visibility and increase the risk of a crash. NHTSA officials said they received over 12,000 complaints connected to this issue. 
The recall will reportedly begin on March 30, but Tesla says that drivers can take steps in the meantime if their display isn't functioning properly. 
"The driver can perform a should check and use the mirrors. If the screen is not visible to control the climate control and defroster settings, the driver will be able to manually clear the windshield," the company stated.
Porsche issues a "stop sale" on some older vehicles
Porsche said this week that it has issued a "stop sale" on certain vehicles produced between 2012 and 2016 that were equipped with the Sport Chrono package. The carmaker said affected vehicles emitted more nitrogen oxide when in the "Sport Plus" mode than permitted by U.S. law. 
A company spokesperson stated that this problem only affects older models, including the 911, Boxster, Cayman, Cayenne, and Panamera. 
"To be clear, our dealer partners are buying all used Porsche cars as they usually would, and the cars in customers' possession remains safe to drive -- what the dealers have paused is selling the specific cars in their inventory affected by this until the software on these cars can be updated," the spokesperson said. 
Nissan recalls Pathfinders with faulty brakes and shifters
Nissan North America is recalling over 267,000 of its model year 2013-2015 Pathfinder vehicles because of an issue that may cause the brake lights to stay illuminated even when the brakes aren't applied. 
The carmaker cited the location of a brake light switch as the cause of the issue, saying that its positioning can constantly make the relay open and close. Over time, this can cause the relay to get stuck in the "ON" position, which is why the lights stay illuminated. If that wasn't enough, the company says this problem can also affect the brake-shift interlock and allow drivers to shift out of the "Park" position without depressing the brake pedal.
Nissan says it is notifying owners and dealers so that affected vehicles can be inspected and repaired free of charge. The recall is set to begin on March 1. 
DEWALT kerosene heaters recalled due to fire and carbon monoxide hazard
Enerco Group has issued a recall for 4,500 DEWALT cordless kerosene forced-air heaters that can restart unexpectedly while in standby mode. This appears to happen when the temperature of the room they're in goes below the thermostat set point set on the product. 
In a worst-case scenario, the products could restart and cause a fire or carbon monoxide poisoning hazard. The heaters were sold at Lowe's and other farm and supply stores across the U.S. from June 2020 through November 2020. 
Consumers are advised to stop using the affected products immediately and to contact Enerco for a free replacement corded heater.