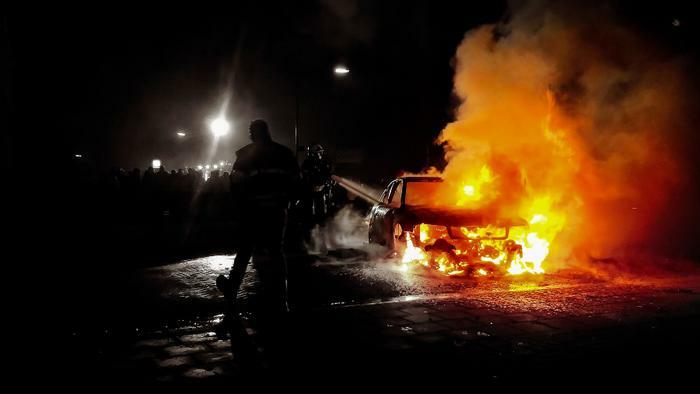 Last month, Hyundai issued a recall for approximately 82,000 of its Kona and Ioniq electric vehicles after numerous reports of battery-related fires. Now, the automaker is recalling even more cars that are affected by a similar problem. 
The National Highway Traffic Safety Administration (NHTSA) announced this week that Hyundai is issuing safety recalls for certain Hyundai Genesis vehicles because of an electrical issue with the anti-lock brake system. The agency says the system can malfunction and cause an electrical short that could lead to an engine compartment fire while the car is parked or being driven. 
"Owners of select Hyundai and Genesis vehicles...should park their cars outside and away from homes, other structures and other flammable materials such as vegetation until their vehicles have been repaired," the agency stated. 
The affected vehicles were produced between February 21, 2014, and January 17, 2020. 
Honda recalls 628,000 vehicles over defective fuel pumps
Honda and Acura are also in the recall doghouse this week. The automaker and its subsidiary recalled over 628,000 vehicles this week -- over 136,000 of which are in the U.S. -- because fuel pumps in affected cars could cause a loss of power. 
In a press release, Honda says the affected vehicles may contain defective impellers that could cause the vehicles to lose power over time. If the vehicle is being used when this happens, it could increase the risk of a crash. 
"Honda is announcing this recall to encourage each owner of an affected vehicle to take it to an authorized dealer as soon as they receive notification of this recall from Acura or Honda," the automaker stated. 
Owners of affected vehicles will begin to be notified on May 18, and mailed notifications should arrive by late July.
Massive pet food recall initiated due to salmonella exposure
Midwestern Pet Foods recalled several of its dog and cat food brands this week because the products may have been contaminated with salmonella. 
The U.S. Food and Drug Administration (FDA) said in an announcement that the products could be deadly to pets that consume them. They also pose a risk to humans who handle the food and could cause symptoms like nausea, vomiting, diarrhea, abdominal cramping, and fever, as well as several more serious conditions. A full list of the affected products can be found on the FDA's site here.
Customers who bought any of the affected products are being advised to destroy them so that children, pets, and wildlife cannot access them. 
Continental tires create more recalls 
Last week, ConsumerAffairs reported that a massive recall by Continental Tires led to a chain of automaker recalls for well over 100,000 vehicles. Unfortunately, more vehicles have been added to that number in recent days.
Honda issued a recall this week for nearly 1,100 of its 2019-2020 Passports and Pilots that came equipped with Continental tires. Like other automakers, the company said the tires had been overcured during the production process and that they were prone to developing a break in the sidewall that could cause a sudden loss of air or belt edge separation, both of which increase the risk of a crash. 
Honda will be notifying owners and dealers about the issue so that the tires can be replaced free of charge. The recall is expected to begin on April 19.
Thousands of pounds of pasta recalled
Another company has been caught out for selling products that were not inspected by federal officials. The culprit this time is Avanza Pasta, which was forced to recall nearly 10,000 pounds of meat and poultry pasta products. 
The recalled products primarily included meat and poultry ravioli and tortellini items that were produced between October 2019 and March 2021. Consumers who bought them are being urged not to consume them and to either throw them away or return them to the place of purchase.