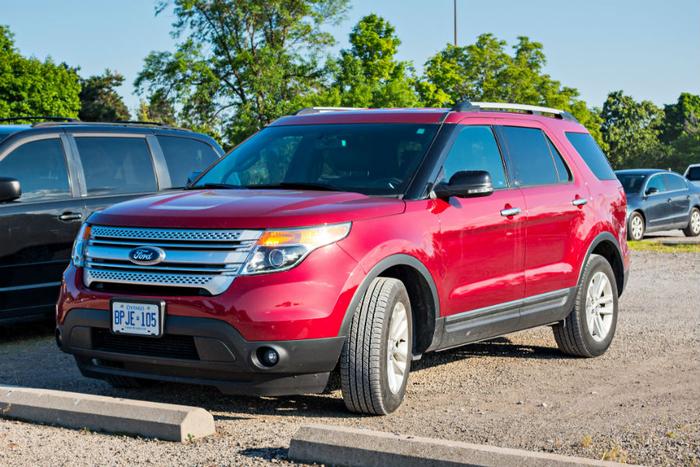 Consumers with Ford Explorer SUVs should be aware that the automaker just announced a recall of about 775,000 of the vehicles. Ford said the SUVs have a steering issue that has been tied to six injuries. 
The flaw lies in the cross-axis ball joint in the steering wheel, according to the company. Ford said the part could seize, resulting in a dramatic loss of steering control. 
"Affected vehicles may experience rear driveline disconnection," Ford said. "Customers may experience vibration and/or shaking while driving at highway speeds, and/or shuddering upon acceleration. In the event of a disconnected driveshaft, customers may experience loss of motive power while driving or loss of transmission park function if the parking brake is not applied, increasing the risk of a crash." 
Model years 2013-2017 are affected by the recall. Owners will receive a notification about the recall in late August and will be eligible to get their vehicle fixed. Ford said dealers will examine cross-axis ball joints and replace them if needed. 
Spray sunscreens contaminated with benzene
Johnson & Johnson announced this week that five of its six aerosol sunscreens were found to be contaminated with benzene -- a known carcinogen. 
The company said internal tests found "low levels" of the chemical in most of its Neutrogena and Aveeno aerosol sunscreens. Consumers have been advised to stop using the products and discard them appropriately. Johnson & Johnson said "use of these products would not be expected to cause adverse health consequences" but that it voluntarily decided to recall them "out of an abundance of caution." 
The spray sunscreens affected by the recall are Neutrogena Beach Defense, Neutrogena Cool Dry Sport, Neutrogena Invisible Daily, Neutrogena Ultra Sheer and Aveeno Protect + Refresh. All can sizes and levels of sun protection factor (SPF) are involved in the recall. 
CPSC sues Amazon over unsafe products
The U.S. Consumer Product Safety Commission (CPSC) announced this week that it is suing Amazon in an effort to get the company to accept responsibility for recalling potentially hazardous products sold on its site. 
The CPSC said Amazon's independent sellers have introduced a number of allegedly defective items to the online marketplace. Specifically, the suit says Amazon sells 24,000 carbon monoxide detectors that fail to alarm, numerous children's sleepwear garments that are reportedly in violation of the flammable fabric safety standard, and nearly 400,000 hair dryers that pose a threat of shock and electrocution.
The government contends that it's Amazon's responsibility to recall products that pose a risk of injury or death to consumers.  
"Today's vote to file an administrative complaint against Amazon was a huge step forward for this small agency," said Acting Chairman Robert Adler. "But it's a huge step across a vast desert—we must grapple with how to deal with these massive third-party platforms more efficiently, and how best to protect the American consumers who rely on them."
Tyson updates chicken recall
Last week, consumers were asked not to eat certain ready-to-eat chicken products from Tyson Foods due to potential listeria contamination. 
The recall affected nearly 9 million pounds of chicken products produced between December 26, 2020, and April 13, 2021. The company said the recalled products would have an establishment number that reads "P-7089" on the product bag or inside the USDA mark of inspection. 
This week, Tyson updated its recall to note that the products involved in the recall were used in additional products produced by other retailers and establishments. Some of the ready-to-eat chicken products have a different establishment number on the label due to further processing, and some may have been served from the deli counter in retail stores. 
Consumers with questions are advised to contact Tyson Foods customer relations at (855) 382-3101.