---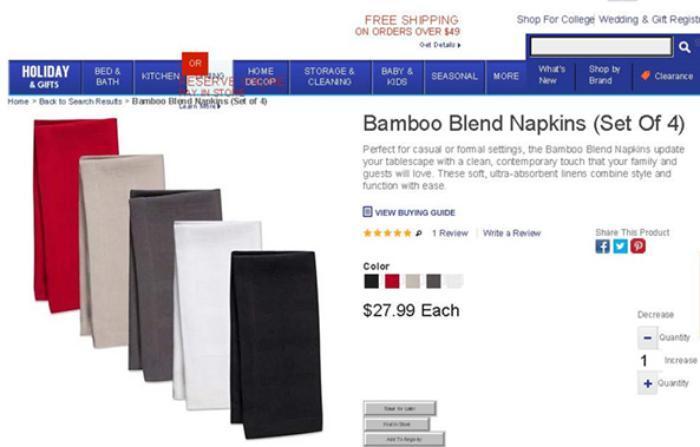 Bamboo and rayon aren't the same thing, the Federal Trade Commission is reminding several large retailers. It's also requiring them to stop mislabeling and misrepresenting rayon products and ordered them to pay penalties totaling $1.3 million.
Under the court orders settling the FTC's charges, Bed Bath & Beyond Inc. will pay $500,000; Nordstrom, Inc. will pay $360,000; J.C. Penney Company, Inc. will pay $290,000; and Backcountry.com LLC will pay $150,000 for allegedly violating the FTC Act and the agency's Textile Rules.
"It's misleading to call bamboo that has been chemically processed into rayon simply 'bamboo,'" said Jessica Rich, Director of the Bureau of Consumer Protection. "With consumers in the midst of their holiday shopping, it's important for them to know that textiles marketed as environmentally friendly alternatives may not be as 'green' as they were led to believe."
The complaints allege that the four companies broke the law by continuing to misrepresent or mislabel rayon products as "bamboo" despite receiving warning letters from the FTC in 2010 and a synopsis of previous litigated cases against marketers for deceptively labeling rayon products as bamboo.
The commission charged the companies falsely and deceptively selling the mislabeled products, despite knowing that doing so was illegal and could subject them to civil penalties.
Charges detailed
Specifically, Bed Bath & Beyond's mislabeled items, also sold through its subsidiary buybuy BABY, included dozens of "bamboo" textiles, including "Aden + Anais Bamboo 3-Pack Muslin Swaddles" and "Bamboo Blend Napkins."
Nordstrom sold similar products online and in its stores, including a "Gypsy 05 Bamboo Racerback Hi-Lo Dress" and "Degree Six Clothing The Bamboo Long Sleeve Tee."
J.C. Penney sold numerous "bamboo" products in its stores and online, including "Muk Luks 4-pk Men's Bamboo Socks." It also falsely claimed "bamboo" gave the products antimicrobial properties.
Similarly, Backcountry.com sold "bamboo" textiles, such as "Bridgedale Bamboo Crew Sock – Men's." Backcountry also made anti-microbial claims for its "bamboo" products.
---