---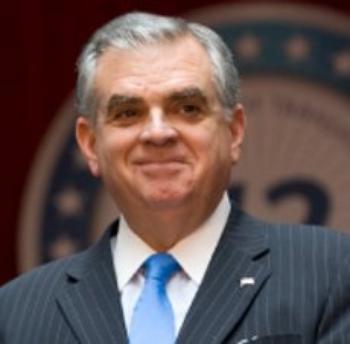 Ex-Transportation Secretary Ray LaHood has added another line to his resume. He's now a "senior policy advisor" in the Washington, D.C., and Chicago offices of DLA Piper, which modestly calls itself a "global law firm" positioned to "help companies with their legal needs anywhere in the world."
Shortly before resigning his post, LaHood presided over a secret meeting at Chicago's O'Hare International Airport with Chrysler officials to craft a much-criticized deal to recall some Jeep SUVs that safety advocates say are dangerously prone to burst into flames when hit from the rear.
Making the move with LaHood is Joan DeBoer, who was his chief of staff at the Transportation Department. She also will be a policy advisor at DLA Piper.
Earlier, LaHood was named co-chair of Building America's Future, an "educational" organization that is pushing for more bridge, highway, transit and aviation construction.
David Strickland who, under LaHood, headed up the National Highway Traffic Safety Administration (NHTSA), the agency that regulates automobile safety, is joining the powerhouse Washington lobbying and law firm Venable LLP.
"There is no substitute for hands-on experience and that is what Secretary LaHood and Joan bring to DLA Piper," said Ignacio Sanchez, co-chair of the Regulatory and Government Affairs practice. "We look forward to utilizing their talents on a variety of projects involving the intersection of government and business."
With much ballyhoo, the Obama Administration announced at its outset that it would put a stop to the much-despised Washington revolving door, through which government officials step down, weary from their years of "public service" to take up lucrative new careers lobbying and influencing government on behalf of the industries they previously regulated.
So wouldn't this apply to LaHood, Strickland and DeBoer? Why no, of course not. They are not, after all, going to be lobbyists -- merely lawyers and policy advisors. You can, in other words, make a big show of closing the front door but it doesn't do much good if the side door remains wide open.
---