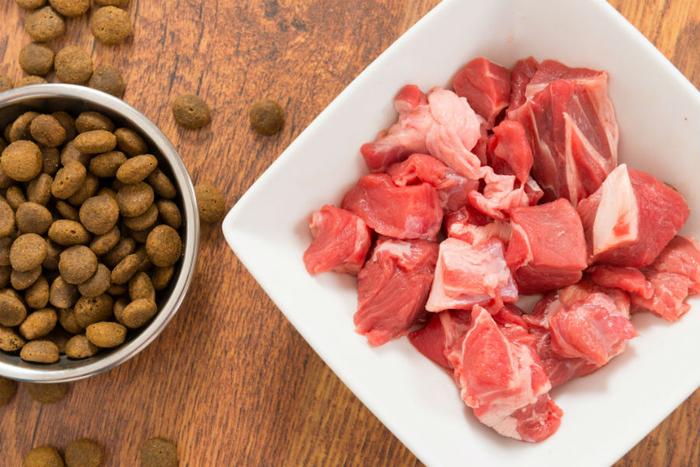 Feeding your pet a raw meat could harm their health and yours, a new study warns.
Researchers based in the Netherlands say raw meat based-diets (RMBDs) may be contaminated with bacteria and parasites, which can pose a risk to both animal and human health.
"It has been claimed that feeding pets raw meat results in a better overall condition of the animals and could have a supportive role in controlling and preventing certain medical conditions in both dogs and cats such as allergies, skin and gastrointestinal tract problems," said lead researcher Paul Overgaauw, from Utrecht University.
However, the researchers say their study shows no evidence that raw meat diets are healthier for pets. On the contrary, cats and dogs that eat raw meat diets are more likely to become infected with antibiotic-resistant bacteria than animals that are fed typical pet food.
Serious health risks
Overgaauw and his colleagues analyzed 35 commercial frozen raw meat diet products for pets that are widely available in the Netherlands and found E. coli bacteria in eight products (23 percent), listeria bacteria in 15 products (43 percent), and traces of salmonella in seven products (20 percent).
Eight products contained Sarcocystes parasites and two products (6 percent) contained Toxoplasma gondii parasites. The two types of Sarcocystes parasites found in the products only pose a risk to farm animals, but the investigators note that T. gondii can cause disease in people.
Commercial pet food safer
Some argue that conventional pet foods lose important nutrients during the heating process, while others say the consumption of unnecessary additives is avoided by feeding pets a raw meat based diet.
Others argue that it's more natural for a carnivorous species to eat raw meat products. But even a little meat can be harmful to pets if it's still raw and not heated, Overgaauw says.
Commercial dry or canned pet foods are safer because the composition of the food is complete and optimally balanced in terms of nutrients, he said. Conventional pet food is also heated during processing, which kills all germs.
Safe handling
Pet owners and other household members can come into contact with antibiotic-resistant bacteria in several ways, including direct contact with the food or with an infected pet, through contact with contaminated household surfaces, or by eating cross-contaminated human food.
The study authors say pet owners should be informed about the risks associated with feeding their animals raw meat-based diets. Pet owners should also be educated about personal hygiene and proper handling of raw meat products.
When handling raw meat products, Overgaauw suggests taking the following precautions:
Buy frozen meat (freezing kills most parasites and Campylobacter bacteria)

Defrost in bowls or on plates that will only be used for this purpose

Handle the raw meat hygienically in the kitchen and wash the surface, your hands, and all utensils thoroughly afterwards

Use feeding bowls that will only be used for this purpose

Remove the bowls as soon as possible (but within half an hour) to prevent too much bacterial multiplication and wash these thoroughly with hot water.
The full study has been published in the journal Vet Record.