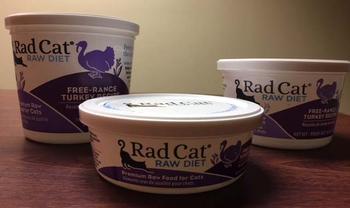 Radagast Pet Food of Portland, Ore., is recalling one lot each of Free-Range Chicken and Free-Range Turkey Recipe.
The products may be contaminated with Listeria monocytogenes.
No pet or human illnesses have been reported.
This following two lots are being recalled:
Rad Cat Raw Diet Free-Range Chicken Lot 62762, Best By Date 10/19/18, shipped to distributors in May 2017 in California. Minnesota, Ohio, Oregon, Pennsylvania and Rhode Island with the following UPC's:
8oz UPC 8 51536 00103 6
16oz UPC 8 51536 00104 3
24oz UPC 8 51536 00105 0
Rad Cat Raw Diet Free-Range Turkey Recipe Lot 62926, Best By Date 05/03/19 shipped in December 2017 to California, Colorado, Florida, Georgia, new York, Ohio, Oregon, Rhode Island, Texas and Washington, and sold through independent pet retail stores. The recalled product has the following UPC's:
8oz UPC 8 51536 00100 5
16oz UPC 8 51536 00101 2
24oz UPC 8 51536 00102 9
What to do
Customers who purchased the recalled products should return them to the place of purchase for a full refund.
Consumers with questions may contact Radagast Pet Food at 503-736-4649 Monday- Friday 9:00am – 5:00pm or online at www.RadFood.com.